Usable Data Systems Group
Bashir Mohammed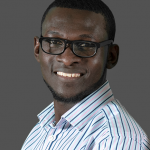 Computational Systems Engineer
Scientific Data Division
Bashir is a computational systems engineer in the IDF group.
His research revolves around networking, systems control, Quantum Networks and scientific data management in HPC and distributed systems. He is currently part of the Quantum Application Network Testbed for Novel Entanglement Technology (QUANT-NET) project, which involves building a physical quantum network testbed based on entanglement across three distributed node linking Berkeley Lab and UC Berkeley. He is working on the real-time quantum network control plane design and agent implementation.
Bashir is part of Berkeley Lab's Cybersecurity R&D for Science and energy, where he is developing Reinforcement learning and control systems solutions for the self-driving synthetic biology labs project, which focuses on the ML processes used by Automated Recommendation Tool (ART) in Joint BioEnergy Institute(JBEI).
He is also invloved in the CRD-NERSC supporting workflows project, which focuses on intelligent scientific workflow data management, real-time stream processing, and data provenance.
Bashir started at LBNL in the Scientific Data Management Group as a postdoctoral scholar on the "Deep and Autonomic High-Performance Networks (DAPHNE) project under the supervision of Mariam Kiran of ESnet and John Wu. His work focused on developing Machine Learning algorithms to optimally control distributed network resources, improve high-speed big data transfers and control high-speed networks that minimize network downtime and avoid network traffic congestion for important Exacscale scientific workflows.
He received his Ph.D. in Computer Science from the University of Bradford UK, where he was part of the Network and Performance Engineering(NetPEn) Research group. He has a Bachelor's degree in Electrical and Computer Engineering and a Master's degree in Control Systems Engineering from the University of Sheffield UK. He was an intern with Rolls-Royce University Technology Center in Sheffield, where he developed a control and optimization algorithm for the modeling of gas turbine engines.
» Visit Bashir Mohammed's personal web page.
Journal Articles
A Sangodoyin, B Mohammed, lU Awan,
"Data driven Machine Learning approach to detect DDoS attack in Software Defined Network",
Journal of Concurrency and Computation: Practice and Experience,
January 1, 2020,
B Mohammed, M Kiran, I-U Awan, KM Maiyama,
"An Integrated Virtualized Strategy for Fault Tolerance in Cloud Computing Environment",
2016 Intl IEEE Conferences on Ubiquitous Intelligence & Computing, Advanced and Trusted Computing, Scalable Computing and Communications, Cloud and Big Data Computing, Internet of People, and Smart World Congress (UIC/ATC/ScalCom/CBDCom/IoP/SmartWorld),
2016,
542--549,
doi: 10.1109/UIC-ATC-ScalCom-CBDCom-IoP-SmartWorld.2016.0094
Conference Papers