Usable Data Systems Group
Xiangyu Bi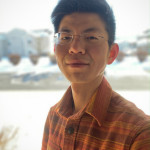 Postdoctoral Researcher
SciData Division
Integrated Data Systems Group
Lawrence Berkeley National Laboratory
Xiangyu Bi is a postdoctoral researcher in the Integrated Data Frameworks Group.
Xiangyu Bi holds a Ph.D. degree in Civil, Environmental and Sustainable Engineering from Arizona State University. His PhD research was concerned with emerging water pollutants, nanomaterials, material design for water treatment, and water desalination. Bi focuses on using fundamental physical/chemical theories and modern data science to simulate experimental observations and to design water treatment technologies and engineering systems.
Xiangyu Bi is currently contributing to the Advanced Manufacturing Office's Water Hub effort, which includes the LBNL-led National Alliance for Water Innovation (NAWI), creating and implementing water treatment models for the WaterTAP software platform.