Usable Data Systems Group
Cody O'Donnell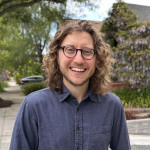 Computational Systems Engineer
Scientific Data Division
Cody O'Donnell is a User Experience (UX) Engineer in the Usable Data Systems (UDS) group in the Scientific Data Division. Cody specializes in designing and building user interfaces for data-intensive web applications. Currently he is supporting the design of multiple scientific computing systems including KBase, IDAES, and Science Capsule.

Cody applies user-centered design processes and data visualization methods to make working with complex data more usable and more accessible. He is interested in the ways data visualization and design can be used to build tools for mission-critical decision-making as well as exploratory learning.

In the past, Cody led the UI development of the next generation Materials Project platform and helped develop multiple applications for the U.S. Army. He received his Master's in Human-Computer Interaction from the Georgia Institute of Technology and his Bachelor's in Information Management from Syracuse University.