Usable Data Systems Group
Sheng Pang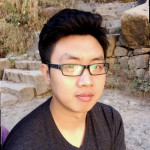 Computer Systems Engineer
Sheng Pang is a front-end web developer in the Usable Data Systems (USD) group within the Scientific Data Division.

His primary role involves building front-end interfaces for web applications. He holds a master's degree in web design and development from the Academy of Art University. His background in UI/UX design and development allows him to accomplish goals and complete tasks efficiently.
He is currently involved in two major projects: the Integrated Design of Advanced Energy Systems (IDAES) and the eProject Builder (ePB).