Applied Numerical Algorithms Group
Dan Martin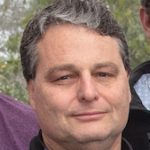 Group Leader
Staff Scientist
Dan Martin is a computational scientist and group leader for the Applied Numerical Algorithms Group at Lawrence Berkeley National Laboratory. His research involves the development of algorithms and software for solving systems of PDEs using adaptive mesh refinement (AMR) finite volume schemes, high (4th)-order finite volume schemes for conservation laws on mapped meshes, and Chombo development and support.
Current applications of interest are developing the BISICLES AMR ice sheet model as a part of the SCIDAC-funded ProSPect application partnership, and some development work related to the COGENT gyrokinetic modeling code, which is being developed in partnership with Lawrence Livermore National Laboratory as a part of the Edge Simulation Laboratory (ESL) collaboration. Dan joined ANAG and LBL as a post-doc in 1998. He has published in a broad range of application areas including projection methods for incompressible flow, adaptive methods for MHD, phase-field dynamics in materials, and Ice sheet modeling.
He is the Level 3 Lead for the Applications Development Earth and Space Science Portfolio in the DOE ASCR Exascale Computing Project (ECP).
Dan is also the LBL practicum coordinator for the DOE´s Computational Science Graduate Fellowship program.
Journal Articles
Conference Papers
Presentation/Talks
Reports
Esmond Ng, Katherine J. Evans, Peter Caldwell, Forrest M. Hoffman, Charles Jackson, Kerstin Van Dam, Ruby Leung, Daniel F. Martin, George Ostrouchov, Raymond Tuminaro, Paul Ullrich, Stefan Wild, Samuel Williams,
"Advances in Cross-Cutting Ideas for Computational Climate Science (AXICCS)",
January 2017,
doi: 10.2172/1341564
M. Adams, P. Colella, D. T. Graves, J.N. Johnson, N.D. Keen, T. J. Ligocki. D. F. Martin. P.W. McCorquodale, D. Modiano. P.O. Schwartz, T.D. Sternberg, B. Van Straalen,
"Chombo Software Package for AMR Applications - Design Document",
Lawrence Berkeley National Laboratory Technical Report LBNL-6616E,
January 9, 2015,
Martin, D.F., Cartwright, K.L.,
"Solving Poisson's Equation using Adaptive Mesh Refinement",
U.C. Berkeley Electronics Research Laboratory report No. UCB/ERL M96/66,
October 19, 1996,
Thesis/Dissertations
An Adaptive Cell-Centered Projection Method for the Incompressible Euler Equations,
Martin, D.F.,
1998,
Posters
Daniel Martin, Samuel Kachuck, Joanna Millstein, Brent Minchew,
"Examining the Sensitivity of Ice Sheet Models to Updates in Rheology (n=4)",
AGU Fall Meeting,
December 15, 2022,