Applied Numerical Algorithms Group
Brian Van Straalen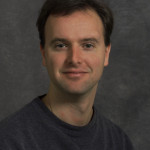 Computer Systems Engineer
Brian Van Straalen received his BASc Mechanical Engineering in 1993 and MMath in Applied Mathematics in 1995 from University of Waterloo. He has been working in the area of scientific computing since he was an undergraduate. He worked with Advanced Scientific Computing Ltd. developing CFD codes written largely in Fortran 77 running on VAX and UNIX workstations. He then worked as part of the thermal modeling group with Bell Northern Research. His Master's thesis work was in the area of a posteriori error estimation for Navier-Stokes equations, which is an area that is still relevant to Department of Energy scientific computing. He worked for Beam Technologies developing the PDESolve package: a combined symbolic manipulation package and finite element solver running in parallel on some of the earliest NSF and DOE MPP parallel computers. He came to LBNL in 1998 to work with Phil Colella and start up the Chombo Project, now in its 13th year of development. He is currently working on his Ph.D. in the Computer Science department at UC Berkeley.
Journal Articles
A Chien, P Balaji, P Beckman, N Dun, A Fang, H Fujita, K Iskra, Z Rubenstein, Z Zheng, R Schreiber, others,
"Versioned Distributed Arrays for Resilience in Scientific Applications: Global View Resilience",
Journal of Computational Science,
2015,
Anshu Dubey, Ann Almgren, John Bell, Martin Berzins, Steve Brandt, Greg Bryan, Phillip Colella, Daniel Graves, Michael Lijewski, Frank L\ offler, others,

"A survey of high level frameworks in block-structured adaptive mesh refinement packages",

Journal of Parallel and Distributed Computing,

2014,

74

:

3217--3227,

doi: 10.1016/j.jpdc.2014.07.001
Vay, J.L., Colella, P., McCorquodale, P., Van Straalen, B., Friedman, A., Grote, D.P.,
"Mesh Refinement for Particle-in-Cell Plasma Simulations: Applications to and Benefits for Heavy Ion Fusion",
Laser and Particle Beams. Vol.20 N.4 (2002), pp. 569-575,
2002,
Conference Papers
Book Chapters
B. Van Straalen, D. Trebotich, A. Ovsyannikov and D.T. Graves,

"Scalable Structured Adaptive Mesh Refinement with Complex Geometry",

Exascale Scientific Applications: Programming Approaches for Scalability, Performance, and Portability,

edited by Straatsma, T., Antypas, K., Williams, T.,

(

Chapman and Hall/CRC:

November 9, 2017

)
Presentation/Talks
Samuel Williams, Mark Adams, Brian Van Straalen,
Performance Portability in Hybrid and Heterogeneous Multigrid Solvers,
Copper Moutain,
March 2016,
Reports
Posters
Scott B. Baden, Paul H. Hargrove, Hadia Ahmed, John Bachan, Dan Bonachea, Steve Hofmeyr, Mathias Jacquelin, Amir Kamil, Brian van Straalen,
"UPC++ and GASNet-EX: PGAS Support for Exascale Applications and Runtimes",
The International Conference for High Performance Computing, Networking, Storage, and Analysis (SC'18) Research Poster,
November 2018,
Lawrence Berkeley National Lab is developing a programming system to support HPC application development using the Partitioned Global Address Space (PGAS) model. This work is driven by the emerging need for adaptive, lightweight communication in irregular applications at exascale. We present an overview of UPC++ and GASNet-EX, including examples and performance results.

GASNet-EX is a portable, high-performance communication library, leveraging hardware support to efficiently implement Active Messages and Remote Memory Access (RMA). UPC++ provides higher-level abstractions appropriate for PGAS programming such as: one-sided communication (RMA), remote procedure call, locality-aware APIs for user-defined distributed objects, and robust support for asynchronous execution to hide latency. Both libraries have been redesigned relative to their predecessors to meet the needs of exascale computing. While both libraries continue to evolve, the system already demonstrates improvements in microbenchmarks and application proxies.
Others
A Mignone, C Zanni, P Tzeferacos, B van Straalen, P Colella, G Bodo,
The PLUTO code for adaptive mesh computations in astrophysical fluid dynamics,
The Astrophysical Journal Supplement Series,
Pages: 7
2012,