Integrated Data Frameworks Group
Sarah Poon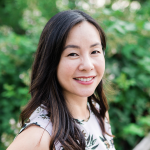 Computer Systems Engineer IV
Integrated Data Frameworks Group
Scientific Data Division
Sarah Poon is user interface designer, web application developer, and HCI researcher, currently working in the Computational Research Division at the Lawrence Berkeley National Lab. As a practitioner, her focus is based on designing and developing web applications that take advantage of new technologies and practices of web interaction. Her research focus is primarily in computer-supported cooperative work (CSCW). In particular, she's interested in understanding the challenges and the motivations for collaboration in distributed scientific teams and how technology can mediate collaboration.
Journal Articles
Cecilia Aragon, Stephen Bailey, Sarah Poon, Karl Runge, and Rollin Thomas,
"Sunfall: A Collaborative Visual Analytics System for Astrophysics",
J. Phys.: Conf. Ser. 125 012091 (Proceedings of SciDAC 2008),
2008,
LBNL 657E,
Conference Papers
Reports
Scientific exploration generates expanding volumes of data that commonly require High Performance Computing (HPC) systems to facilitate research. HPC systems are complex ecosystems of hardware and software that frequently are not user friendly. The Usable Data Abstractions (UDA) project set out to build usable software for scientific workflows in HPC environments by undertaking multiple rounds of qualitative user research. Qualitative research investigates how individuals accomplish their work and our interview-based study surfaced a variety of insights about the experiences of working in and with HPC ecosystems. This report examines multiple facets to the experiences of scientists and developers using and supporting HPC systems. We discuss how stakeholders grasp the design and configuration of these systems, the impacts of abstraction layers on their ability to successfully do work, and the varied perceptions of time that shape this work. Examining the adoption of the Cori HPC at NERSC we explore the anticipations and lived experiences of users interacting with this system's novel storage feature, the Burst Buffer. We present lessons learned from across these insights to illustrate just some of the challenges HPC facilities and their stakeholders need to account for when procuring and supporting these essential scientific resources to ensure their usability and utility to a variety of scientific practices.