Stefan Wild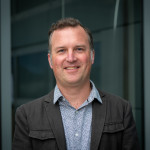 Division Director & Senior Scientist
Applied Mathematics and Computational Research Division
* Contact Dionne Myers for appointments.
Biographical Sketch
Stefan Wild directs the Applied Mathematics and Computational Research (AMCR) Division in the Computing Sciences Area at Lawrence Berkeley National Laboratory (Berkeley Lab). AMCR conducts research and development in mathematical modeling, simulation and analysis, algorithm design, computer system architecture, and high-performance software implementation.
Wild's primary research focuses on developing model-based algorithms and software for challenging numerical optimization problems and automated learning. He has worked across scientific areas to solve difficult science and engineering problems involving advanced computer simulations, complex data, and physical experiments.
At Northwestern University, Wild is an adjunct faculty member in Industrial Engineering and Management Sciences and a senior fellow in NAISE.
Wild came to Berkeley Lab in December of 2022 from Argonne National Laboratory where he was a senior computational mathematician and deputy division director of the Mathematics and Computer Science Division. He received his Ph.D. and M.S. in operations research from Cornell University and was then an Argonne Director's Postdoctoral Fellow. Wild was also a Department of Energy Computational Science Graduate fellow.
Wild holds editorial responsibilities for Mathematical Programming Computation, INFORMS Journal on Computing, Data Science in Science, and the SIAM Review.
Wild's personal site and Northwestern IEMS site.
Publications and Software
Journal Articles
Conference Papers
Prasanna Balaprakash, Michael Salim, Thomas D. Uram, Venkat Vishwanath, Stefan M. Wild,
"DeepHyper: Asynchronous Hyperparameter Search for Deep Neural Networks",
25th IEEE International Conference on High Performance Computing (HiPC18),
2018,
doi: 10.1109/hipc.2018.00014
E. Wes Bethel, Martin Greenwald, Kerstin Kleese Dam, Manish Parashar, Stefan M. Wild, H. Steven Wiley,
"2016 IEEE 12th International Conference on e-Science",
2016 IEEE 12th International Conference on e-Science,
Baltimore, MD, USA,
2016,
213--222,
Babak Behzad, Suren Byna, Stefan Wild, Prabhat and Marc Snir,
"Dynamic Model-driven Parallel I/O Performance Tuning",
IEEE Cluster 2015,
2015,
Babak Behzad, Surendra Byna, Stefan M. Wild, Mr. Prabhat, Marc Snir,
"Improving Parallel I/O Autotuning with Performance Modeling",
ACM Symposium on High-Performance Parallel and Distributed Computing (HPDC 2014),
New York, NY, USA,
ACM,
2014,
253--256,
doi: 10.1145/2600212.2600708
E. G. Ng, J. Sarich, S. M.Wild, T. Munson, H. M. Aktulga, C. Yang, P. Maris, J. P. Vary, N. Schunck, M. G. Bertolli, M. Kortelainen, W. Nazarewicz, T. Papenbrock, M. V. Stoitsov,

"Advancing Nuclear Physics Through TOPS Solvers and Tools",

SciDAC 2011 Conference,

Denver, CO,

July 10, 2011,

arXiv

:

1110.1708,
Tim Carnes, Chandrashekhar Nagarajan, Stefan M. Wild, Anke Zuylen,
"ICEC '07: Proceedings of the Ninth International Conference on Electronic Commerce",
ICEC '07: Proceedings of the Ninth International Conference on Electronic Commerce,
1969,
351--360,
Reports
V. Cirigliano, Z. Davoudi, J. Engel, R. J. Furnstahl, G. Hagen, U. Heinz, H. Hergert, M. Horoi, C. W. Johnson, A. Lovato, E. Mereghetti, W. Nazarewicz, A. Nicholson, T. Papenbrock, S. Pastore, M. Plumlee, D. R. Phillips, P. E. Shanahan, S. R. Stroberg, F. Viens, A. Walker-Loud, K. A. Wendt, S. M. Wild,
"Towards Precise and Accurate Calculations of Neutrinoless Double-Beta Decay: Project Scoping Workshop Report",
2022,
doi: 10.48550/ARXIV.2207.01085
Esmond Ng, Katherine J. Evans, Peter Caldwell, Forrest M. Hoffman, Charles Jackson, Kerstin Van Dam, Ruby Leung, Daniel F. Martin, George Ostrouchov, Raymond Tuminaro, Paul Ullrich, Stefan Wild, Samuel Williams,
"Advances in Cross-Cutting Ideas for Computational Climate Science (AXICCS)",
January 2017,
doi: 10.2172/1341564