John Bell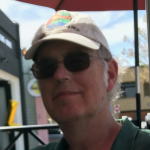 Senior Scientist and AMCR Chief Scientist
PI, ECP Block-Structured AMR Co-Design Center
Recent Awards
John Bell was awarded the 2018 Director's Award for Lifetime Achievement in November 2018.
Research Interests
Development and analysis of numerical methods for partial differential equations arising in science and engineering. General topics in scientific computing, computational physics, and fluid dynamics.
» Download John Bell's CV (PDF | 90KB).
» Visit John Bell's personal web page.
» Visit John Bell's Google Scholar Entry