Computational Cosmology Center
Zarija Lukić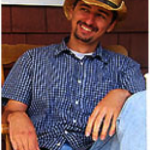 Research Scientist
Scientific Data Division
Zarija Lukić is a research scientist in the Computational Cosmology Center. He earned his astrophysics PhD in 2008 from the University of Illinois at Urbana-Champaign and has been a postdoctoral researcher in the Theoretical Division of Los Alamos National Laboratory (2008-2011) and the Computational Research Division of Lawrence Berkeley Lab (2011-2013).
The main topics of Zarija's research are the formation and evolution of the structure of the Universe and different ways of determining cosmological parameters from sky surveys, with the current focus on modeling the Lyman-alpha absorption observed in spectra of distant quasars. An essential component of his research is finding new computational methods for modeling physical systems – building simulation codes that can efficiently run on the largest supercomputers, as well as algorithms for extracting scientific insights from big data sets produced with these simulation codes. Over the past 20 years, he was the P.I. on many projects using leading machines at different supercomputer centers, including NERSC, the National Center for Supercomputing Applications (NCSA), the Los Alamos Supercomputer Center, the Oak Ridge Leadership Computing Facility (OLCF), and the Argonne Leadership Computing Facility (ALCF). He is currently LBL P.I. on SciDAC-5 project "Enabling Cosmic Discoveries in the Exascale Era", and on ECP project "Computing the Sky at Extreme Scales".
In addition to astrophysics, Zarija's research included topics in applied nuclear physics. He published research on the practical use of cosmic rays to identify materials and remotely diagnose the state of damaged reactor cores in the wake of the 2011 Fukushima Daiichi Nuclear Power Plant accident.
Journal Articles
Conference Papers
K. Wang, S. Lee, J. Balewski, A. Sim, P. Nugent, A. Agrawal, A. Choudhary, K. Wu, W-K. Liao,
"Using Multi-resolution Data to Accelerate Neural Network Training in Scientific Applications",
22nd IEEE/ACM International Symposium on Cluster, Cloud and Internet Computing (CCGrid 2022),
2022,
doi: 10.1109/CCGrid54584.2022.00050
S. Lee, Q. Kang, K. Wang, J. Balewski, A. Sim, A. Agrawal, A. Choudhary, P. Nugent, K. Wu, W-K. Liao,
"Asynchronous I/O Strategy for Large-Scale Deep Learning Applications",
IEEE International Conference on High Performance Computing, Data & Analytics (HiPC2021),
2021,
doi: 10.1109/HiPC53243.2021.00046
Qiao Kang, Alex Sim, Peter Nugent, Sunwoo Lee, Wei-keng Liao, Ankit Agrawal, Alok Choudhary, Kesheng Wu,
"Predicting Resource Requirement in Intermediate Palomar Transient Factory Workflow",
20th IEEE/ACM International Symposium on Cluster, Cloud and Internet Computing (CCGRID 2020),
2020,
619--628,
doi: 10.1109/CCGrid49817.2020.00-31
Weijie Zhao, Florin Rusu, Bin Dong, Kesheng Wu, Anna YQ Ho, Peter Nugent,
"Distributed caching for processing raw arrays",
Proceedings of the 30th International Conference on Scientific and Statistical Database Management,
2018,
1--12,
Jonathan Wang, Wucherl Yoo, Alex Sim, Peter Nugent, Kesheng Wu,
"Parallel variable selection for effective performance prediction",
2017 17th IEEE/ACM International Symposium on Cluster, Cloud and Grid Computing (CCGRID),
2017,
208--217,
Weijie Zhao, Florin Rusu, Bin Dong, Kesheng Wu, Peter Nugent,
"Incremental view maintenance over array data",
Proceedings of the 2017 ACM International Conference on Management of Data,
January 1, 2017,
139--154,
Wucherl Yoo, Michelle Koo, Yi Cao, Alex Sim, Peter Nugent, Kesheng Wu,
"Patha: Performance analysis tool for hpc applications",
2015 IEEE 34th International Performance Computing and Communications Conference (IPCCC),
2015,
1--8,
A. Almgren, J. Bell, D. Kasen, M. Lijewski, A. Nonaka, P. Nugent, C. Rendleman, R. Thomas, and M. Zingale,
"MAESTRO, CASTRO and SEDONA -- Petascale Codes for Astrophysical Applications",
Proceedings of SciDAC 2010,
Chattanooga, Tennessee,
July 2010,
S Woosley, D Kasen, H Ma, G Glatzmaier, A Aspden, J Bell, M Day, A Kerstein, V Sankaran, F Röpke,
"Type Ia supernovae",
Proceedings of Science,
2008,
P. Nugent, R. Thomas, G. Aldering,

"Optimizing Type Ia supernova follow-up in future dark energy surveys",

Journal of Physics Conference Series,

2008,

125

:

012011,

doi: 10.1088/1742-6596/125/1/012011
Horst Simon, William Kramer, William Saphir, John Shalf, David Bailey, Leonid Oliker, Michael Banda, C. William McCurdy, John Hules, Andrew Canning, Marc Day, Philip Colella, David Serafini, Michael Wehner, Peter Nugent,
"Science-Driven System Architecture: A New Process for Leadership Class Computing",
Journal of the Earth Simulator, Volume 2.,
2005,
LBNL 56545,
Book Chapters
Wucherl Yoo, Michelle Koo, Yi Cao, Alex Sim, Peter Nugent, Kesheng Wu,

"Performance Analysis Tool for HPC and Big Data Applications on Scientific Clusters",

Conquering Big Data with High Performance Computing,

(

Springer, Cham:

2016

)

Pages: 139--161
F. Rusu, P. Nugent, K. Wu,

"Implementing the Palomar Transient Factory Real-Time Pipeline in GLADE: Results and",

Lecture Notes in Computer Science,

(

2014

)

Pages: 53--66
Reports
S. Habib, R. Roser, R. Gerber, K. Antypas, K. Riley, T. Williams, J. Wells, T. Straatsma, A. Almgren, J. Amundson, S. Bailey, D. Bard, K. Bloom, B. Bockelman, A. Borgland, J. Borrill, R. Boughezal, R. Brower, B. Cowan, H. Finkel, N. Frontiere, S. Fuess, L. Ge, N. Gnedin, S. Gottlieb, O. Gutsche, T. Han, K. Heitmann, S. Hoeche, K. Ko, O. Kononenko, T. LeCompte, Z. Li, Z. Lukic, W. Mori, P. Nugent, C.-K. Ng, G. Oleynik, B. O'Shea, N. Padmanabhan, D. Petravick, F.J. Petriello, J. Power, J. Qiang, L. Reina, T.J. Rizzo, R. Ryne, M. Schram, P. Spentzouris, D. Toussaint, J.-L. Vay, B. Viren, F. Wurthwein, L. Xiao,
"ASCR/HEP Exascale Requirements Review Report",
arXiv:1603.09303,
2016,
Simon, H., Kramer, W., Saphir, W., Shalf, J., Bailey, D., Oliker, L., Banda, M., McCurdy, C.W., Hules, J., Canning, A., Day, M., Colella, P., Serafini, D., Wehner, M., Nugent, P.,
"National Facility for Advanced Computational Science: A Sustainable Path to Scientific Discovery",
April 2004,
LBNL 5500,
Thesis/Dissertations
Non-Local Thermodynamic Equilibrium Spectrum Synthesis of Type IA,
P. E.. Nugent,
Ph.D.,
1997,
Others