Computational Cosmology Center
Satyarth Praveen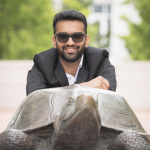 Computer Systems Engineer
Satyarth is a robotics graduate with a computer science background and a keen interest in space science and technology. His work spans various domains, primarily focusing on applied AI and machine learning research. He has had the opportunity to work on exciting projects through collaborations with NASA's Frontier Development Laboratory (FDL) and the autonomous vehicle industry.
Satyarth aligned his passion for space science with his work, contributing to cosmology, earth science, and climate change projects. His expertise in applied AI extends to Autonomous Driver Assistance Systems (ADAS) in the autonomous vehicle industry.
Satyarth received his Master's in Robotics from the University of Maryland College Park and his Bachelor's in Computer Engineering from the Delhi Technological University in New Delhi, India.