Performance and Algorithms Research
Abhinav Sarje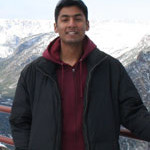 Research Scientist
Computer Science Department
Office: 59-4029M
One Cyclotron Rd
M/S 59R4104
Berkeley
,
CA
94720
us
Abhinav Sarje is a research scientist in the Performance and Algorithms Research group of the Computer Science department at the Berkeley Lab. He completed his doctoral studies in computer engineering at Iowa State University.
His primary research interests are in parallel algorithms, high-performance computing, machine learning, performance engineering, string and graph algorithms, and computational biology.
Also visit www.abhinavsarje.net for some outdated information.
Some Project Webpages
Journal Articles
Conference Papers
Taylor Barnes, Brandon Cook, Jack Deslippe, Douglas Doerfler, Brian Friesen, Yun (Helen) He, Thorsten Kurth, Tuomas Koskela, Mathieu Lobet, Tareq Malas, Leonid Oliker, Andrey Ovsyannikov, Abhinav Sarje, Jean-Luc Vay, Henri Vincenti, Samuel Williams, Pierre Carrier, Nathan Wichmann, Marcus Wagner, Paul Kent, Christopher Kerr, John Dennis,
"Evaluating and Optimizing the NERSC Workload on Knights Landing",
Performance Modeling, Benchmarking and Simulation of High Performance Computer Systems (PMBS),
November 2016,
Abhinav Sarje, Xiaoye S Li, Nicholas Wright,
"Achieving High Parallel Efficiency on Modern Processors for X-ray Scattering Data Analysis",
International Workshop on Multicore Software Engineering at EuroPar,
2016,
This paper addresses two key parallelization challenges the unstructured mesh-based ocean modeling code, MPAS-Ocean, which uses a mesh based on Voronoi tessellations: (1) load imbalance across processes, and (2) unstructured data access patterns, that inhibit intra- and inter-node performance. Our work analyzes the load imbalance due to naive partitioning of the mesh, and develops methods to generate mesh partitioning with better load balance and reduced communication. Furthermore, we present methods that minimize both inter- and intra- node data movement and maximize data reuse. Our techniques include predictive ordering of data elements for higher cache efficiency, as well as communication reduction approaches. We present detailed performance data when running on thousands of cores using the Cray XC30 supercomputer and show that our optimization strategies can exceed the original performance by over 2×. Additionally, many of these solutions can be broadly applied to a wide variety of unstructured grid-based computations.
Abhinav Sarje, Xiaoye S Li, Alexander Hexemer,

"Tuning HipGISAXS on Multi and Many Core Supercomputers",

High Performance Computing Systems. Performance Modeling, Benchmarking and Simulation,

Denver, CO,

Springer International Publishing,

2014,

8551

:

217-238,

doi: 10.1007/978-3-319-10214-6_11
With the continual development of multi and many-core architectures, there is a constant need for architecture-specific tuning of application-codes in order to realize high computational performance and energy efficiency, closer to the theoretical peaks of these architectures. In this paper, we present optimization and tuning of HipGISAXS, a parallel X-ray scattering simulation code [9], on various massively-parallel state-of-the-art supercomputers based on multi and many-core processors. In particular, we target clusters of general-purpose multi-cores such as Intel Sandy Bridge and AMD Magny Cours, and many-core accelerators like Nvidia Kepler GPUs and Intel Xeon Phi coprocessors. We present both high-level algorithmic and low-level architecture-aware optimization and tuning methodologies on these platforms. We cover a detailed performance study of our codes on single and multiple nodes of several current top-ranking supercomputers. Additionally, we implement autotuning of many of the algorithmic and optimization parameters for dynamic selection of their optimal values to ensure high-performance and high-efficiency.
In the field of nanoparticle material science, X-ray scattering techniques are widely used for characterization of macromolecules and particle systems (ordered, partially-ordered or custom) based on their structural properties at the micro- and nano-scales. Numerous applications utilize these, including design and fabrication of energy-relevant nanodevices such as photovoltaic and energy storage devices. Due to its size, analysis of raw data obtained through present ultra-fast light beamlines and X-ray scattering detectors has been a primary bottleneck in such characterization processes. To address this hurdle, we are developing high-performance parallel algorithms and codes for analysis of X-ray scattering data for several of the scattering methods, such as the Small Angle X-ray Scattering (SAXS), which we talk about in this paper. As an inverse modeling problem, structural fitting of the raw data obtained through SAXS experiments is a method used for extracting meaningful information on the structural properties of materials. Such fitting processes involve a large number of variable parameters and, hence, require a large amount of computational power. In this paper, we focus on this problem and present a high-performance and scalable parallel solution based on the Reverse Monte Carlo simulation algorithm, on highly-parallel systems such as clusters of multicore CPUs and graphics processors. We have implemented and optimized our algorithm on generic multi-core CPUs as well as the Nvidia GPU architectures with C++ and CUDA. We also present detailed performance results and computational analysis of our code.
Although present X-ray scattering techniques can provide tremendous information on the nano-structural properties of materials that are valuable in the design and fabrication of energy-relevant nano-devices, a primary challenge remains in the analyses of such data. In this paper we describe a high-performance, flexible, and scalable Grazing Incidence Small Angle X-ray Scattering simulation algorithm and codes that we have developed on multi-core/CPU and many-core/GPU clusters. We discuss in detail our implementation, optimization and performance on these platforms. Our results show speedups of ~125x on a Fermi-GPU and ~20x on a Cray-XE6 24-core node, compared to a sequential CPU code, with near linear scaling on multi-node clusters. To our knowledge, this is the first GISAXS simulation code that is flexible to compute scattered light intensities in all spatial directions allowing full reconstruction of GISAXS patterns for any complex structures and with high-resolutions while reducing simulation times from months to minutes.
The emergence of cloud computing and Google's MapReduce paradigm is renewing interest in the development of broadly applicable high level abstractions as a means to deliver easy programmability and cyber resources to the user, while hiding complexities of system architecture, parallelism and algorithms, heterogeneity, and fault-tolerance. In this paper, we present a high-level framework for computations on tree structures. Despite the diversity and types of tree structures, and the algorithmic ways in which they are utilized, our abstraction provides sufficient generality to be broadly applicable. We show how certain frequently used operations on tree structures can be cast in terms of our framework. We further demonstrate the applicability of our framework by solving two applications -- k-nearest neighbors and fast multipole method (FMM) based simulations -- by merely using our framework in multiple ways. We developed a generic programming based implementation of the framework using C++ and MPI, and demonstrate its performance on the aforementioned applications using homogeneous multi-core clusters.
Presentation/Talks
Reports
Thesis/Dissertations
The area of computing is seeing parallelism increasingly being incorporated at various levels: from the lowest levels of vector processing units following Single Instruction Multiple Data (SIMD) processing, Simultaneous Multi- threading (SMT) architectures, and multi/many-cores with thread-level shared memory and SIMT parallelism, to the higher levels of distributed memory parallelism as in supercomputers and clusters, and scaling them to large distributed systems as server farms and clouds. All together these form a large hierarchy of parallelism. Developing high-performance parallel algorithms and efficient software tools, which make use of the available parallelism, is inevitable in order to harness the raw computational power these emerging systems have to offer. In the work presented in this thesis, we develop architecture-aware parallel techniques on such emerging paradigms in parallel computing, specifically, parallelism offered by the emerging multi- and many-core architectures, as well as the emerging area of cloud computing, to target large scientific applications. First, we develop efficient parallel algorithms to compute optimal pairwise alignments of genomic sequences on heterogeneous multi-core processors, and demonstrate them on the IBM Cell Broadband Engine. Then, we develop parallel techniques for scheduling all-pairs computations on heterogeneous systems, including clusters of Cell processors, and NVIDIA graphics processors. We compare the performance of our strategies on Cell, GPU and Intel Nehalem multi- core processors. Further, we apply our algorithms to specific applications taken from the areas of systems biology, fluid dynamics and materials science: pairwise Mutual Information computations for reconstruction of gene regulatory networks; pairwise Lp-norm distance computations for coherent structures discovery in the design of flapping-wing Micro Air Vehicles, and construction of stochastic models for a set of properties of heterogeneous materials. Lastly, in the area of cloud computing, we propose and develop an abstract framework to enable computations in parallel on large tree structures, to facilitate easy development of a class of scientific applications based on trees. Our framework, in the style of Google's MapReduce paradigm, is based on two generic user-defined functions through which a user writes an application. We implement our framework as a generic programming library for a large cluster of homogeneous multi-core processor, and demonstrate its applicability through two applications: all-k-nearest neighbors computations, and Fast Multipole Method (FMM) based simulations.
Posters
We consider the problem of reconstructing material nanostructures from grazing-incidence small-angle X-ray scattering (GISAXS) data obtained through experiments at synchrotron light-sources. This is an important tool for characterization of macromolecules and nano-particle systems applicable to applications such as design of energy-relevant nano-devices. Computational analysis of experimentally collected scattering data has been the primary bottleneck in this process.
We exploit the availability of massive parallelism in leadership-class supercomputers with multi-core and graphics processors to realize the compute-intensive reconstruction process. To develop a solution, we employ various optimization algorithms including gradient-based LMVM, derivative-free trust region-based POUNDerS, and particle swarm optimization, and apply these in a massively parallel fashion.
We compare their performance in terms of both quality of solution and computational speed. We demonstrate the effective utilization of up to 8,000 GPU nodes of the Titan supercomputer for inverse modeling of organic-photovoltaics (OPVs) in less than 15 minutes.