Computer Architecture Group
Patricia Gonzalez-Guerrero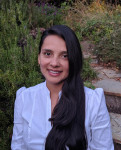 Patricia
Gonzalez-Guerrero
Postdoctoral Fellow
Computer Science Department
Computer Architecture Group
Biographical Sketch
Patricia received her Ph.D. (2019) and M.Sc. (2015) from the University of Virginia, Charlottesville, VA, USA; and her Bachelors Degree from the Pontifical Xavierian University (2008), Bogota, Colombia. She also worked as an ASIC Design and Verification Engineer in Hewlett-Packard, Costa Rica. 
Her research interests include ultra-low power VLSI digital and mixed-signal design. Her work focuses on non-conventional computing paradigms to reduce power and energy consumption, such as, synchronous and asynchronous stochastic computing, computing with sigma-delta streams and race logic.
Current Projects
Journal Articles
Patricia Gonzalez-Guerrero, Tommy Tracy II, Xinfei Guo, Rahul Sreekumar, Marzieh Lenjani, Kevin Skadron, Mircea R Stan,
"Towards on-node Machine Learning for Ultra-low-power Sensors Using Asynchronous Σ Δ Streams",
Journal on Emerging Technologies in Computing Systems (JETC),
August 26, 2020,
doi: https://doi.org/10.1145/3404975
We propose a novel architecture to enable low-power, complex on-node data processing, for the next generation of sensors for the internet of things (IoT), smartdust, or edge intelligence. Our architecture combines near-analog-memory-computing (NAM) and asynchronous-computing-with-streams (ACS), eliminating the need for ADCs. ACS enables ultra-low power, massive computational resources required to execute on-node complex Machine Learning (ML) algorithms; while NAM addresses the memory-wall that represents a common bottleneck for ML and other complex functions. In ACS an analog value is mapped to an asynchronous stream that can take one of two logic levels (vh, vl). This stream-based data representation enables area/power-efficient computing units such as a multiplier implemented as an AND gate yielding savings in power of ∼90% compared to digital approaches. The generation of streams for NAM and ACS in a brute force manner, using analog-to-digital-converters (ADCs) and digital-to-streams-converters, would sky-rocket the power-latency-energy cost making the approach impractical. Our NAM-ACS architecture eliminates expensive conversions, enabling an end-to-end processing on asynchronous streams data-path. We tailor the NAM-ACS architecture for random forest (RaF), an ML algorithm, chosen for its ability to classify using a reduced number of features. Simulations show that our NAM-ACS architecture enables 75% of savings in power compared with a single ADC, obtaining a classification accuracy of 85% using an RaF-inspired algorithm
Xinfei Guo, Vaibhav Verma, Patricia Gonzalez-Guerrero, Sergiu Mosanu, Mircea R Stan,
"Back to the future: Digital circuit design in the finfet era",
Journal of Low Power Electronics,
September 1, 2017,
doi: https://doi.org/10.1166/jolpe.2017.1489
It has been almost a decade since FinFET devices were introduced to full production; they allowed scaling below 20 nm, thus helping to extend Moore's law by a precious decade with another decade likely in the future when scaling to 5 nm and below. Due to superior electrical parameters and unique structure, these 3-D transistors offer significant performance improvements and power reduction compared to planar CMOS devices. As we are entering into the sub-10 nm era, FinFETs have become dominant in most of the high-end products; as the transition from planar to FinFET technologies is still ongoing, it is important for digital circuit designers to understand the challenges and opportunities brought in by the new technology characteristics. In this paper, we study these aspects from the device to the circuit level, and we make detailed comparisons across multiple technology nodes ranging from conventional bulk to advanced planar technology nodes such as Fully Depleted Silicon-on-Insulator (FDSOI), to FinFETs. In the simulations we used both state-of-art industry-standard models for current nodes, and also predictive models for future nodes. Our study shows that besides the performance and power benefits, FinFET devices show significant reduction of short-channel effects and extremely low leakage, and many of the electrical characteristics are close to ideal as in old long-channel technology nodes; FinFETs seem to have put scaling back on track! However, the combination of the new device structures, double/multi-patterning, many more complex rules, and unique thermal/reliability behaviors are creating new technical challenges. Moving forward, FinFETs still offer a bright future and are an indispensable technology for a wide range of applications from high-end performance-critical computing to energy-constraint mobile applications and smart Internet-of-Things (IoT) devices.
A. Roy, A. Klinefelter, F. B. Yahya, X. Chen, L. P. Gonzalez-Guerrero, C. J. Lukas, D. A. Kamakshi, J. Boley, K. Craig, M. Faisal, S. Oh, N. E. Roberts, Y. Shakhsheer, A. Shrivastava, D. P. Vasudevan, D. D. Wentzloff, B. H. Calhoun,

"A 6.45 μW Self-Powered SoC With Integrated Energy-Harvesting Power Management and ULP Asymmetric Radios for Portable Biomedical Systems",

IEEE Transactions on Biomedical Circuits and Systems,

December 28, 2015,

9

:

862 - 874,

doi: 10.1109/TBCAS.2015.2498643
This paper presents a batteryless system-on-chip (SoC) that operates off energy harvested from indoor solar cells and/or thermoelectric generators (TEGs) on the body. Fabricated in a commercial 0.13 μW process, this SoC sensing platform consists of an integrated energy harvesting and power management unit (EH-PMU) with maximum power point tracking, multiple sensing modalities, programmable core and a low power microcontroller with several hardware accelerators to enable energy-efficient digital signal processing, ultra-low-power (ULP) asymmetric radios for wireless transmission, and a 100 nW wake-up radio. The EH-PMU achieves a peak end-to-end efficiency of 75% delivering power to a 100 μA load. In an example motion detection application, the SoC reads data from an accelerometer through SPI, processes it, and sends it over the radio. The SPI and digital processing consume only 2.27 μW, while the integrated radio consumes 4.18 μW when transmitting at 187.5 kbps for a total of 6.45 μW.
Conference Papers