Computer Architecture Group
Anastasiia Butko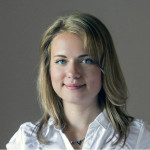 Research Scientist
Computer Science Department
Biographical Sketch
Anastasiia Butko, Ph.D. is a Research Scientist in the Computational Research Division at Lawrence Berkeley National Laboratory (LBNL), CA. Her research interests lie in the general area of computer architecture, with particular emphasis on high-performance computing, emerging and heterogeneous technologies, associated parallel programming and architectural simulation techniques. Broadly, her research addresses the question of how alternative technologies can provide continuing performance scaling in the approaching Post-Moore's Law era. Her primary research projects include development of the EDA tools for fast superconducting logic design, development of the classical ISA for quantum processor control, development of the fast and flexible System-on-Chip generators using Chisel DSL.
Dr. Butko received her Ph.D. in Microelectronics from the University of Montpellier, France (2015). Her doctoral thesis developed fast and accurate simulation techniques for many-core architectures exploration. Her graduate work has been conducted within the European project MontBlanc, which aims to design a new supercomputer architecture using low-power embedded technologies.
Dr. Butko received her MSc. Degree in Microelectronics from UM2, France and MSc and BSc Degrees in Digital Electronics from NTUU "KPI", Ukraine. During her Master she participated on the international program of double diploma between Montpellier and Kiev universities.
Current Projects
Berkeley eXtensible Processing Engine (BXPE)

: FPGA-Accelerated Supercomputing on the Edge for High-Throughput Scientific Applications

iARPA AGILE: Advanced Graphic Intelligence Logical Computing Environment
Open2C: Open Cache Coherency
OpenSoC Fabric: An Open-Source Network-On-Chip Generator
Project 38

: A set of vendor-agnostic architectural explorations involving NSA, the DOE Office of Science, and NNSA

QUASAR Ice:

A 32-bit RISC-V Core with Quantum Specific Extensions

VTE: Verilator Testbench Environment
Journal Articles
A large portion of existing multithreaded embedded software has been programmed according to symmetric shared memory platforms where a monolithic memory block is shared by all cores. Such platforms accommodate popular parallel programming models such as POSIX threads and OpenMP. However with the growing number of cores in modern manycore embedded architectures, they present a bottleneck related to their centralized memory accesses. This paper proposes a solution tailored for an efficient execution of applications defined with shared-memory programming models onto on-chip distributed-memory multicore architectures. It shows how performance, area and energy consumption are significantly improved thanks to the scalability of these architectures. This is illustrated in an open-source realistic design framework, including tools from ASIC to microkernel.
Luciano Ost, Rafael Garibotti, Gilles Sassatelli, Gabriel Marchesan Almeida, Rémi Busseuil, Anastasiia Butko, Michel Robert, Jürgen Becker,
"Novel Techniques for Smart Adaptive Multiprocessor SoCs",
IEEE Transactions on Computers,
March 20, 2013,
doi: 10.1109/TC.2013.57
The growing concerns of power efficiency, silicon reliability and performance scalability motivate research in the area of adaptive embedded systems, i.e. systems endowed with decisional capacity, capable of online decision making so as to meet certain performance criteria. The scope of possible adaptation strategies is subject to the targeted architecture specifics, and may range from simple scenario-driven frequency/voltage scaling to rather complex heuristic-driven algorithm selection. This paper advocates the design of distributed memory homogeneous multiprocessor systems as a suitable template for best exploiting adaptation features, thereby tackling the aforementioned challenges. The proposed solution lies in the combined use of a typical application processor for global orchestration along with such an adaptive multiprocessor core for the handling of data-intensive computation. This paper describes an exploratory homogeneous multiprocessor template designed from the ground up for scalability and adaptation. The proposed contributions aim at increasing architecture efficiency through smart distributed control of architectural parameters such as frequency, and enhanced techniques for load balancing such as task migration and dynamic multithreading.
Conference Papers