Quantum Information Science & Technology
Monica Hernandez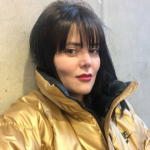 Quantum Communications Lead
Monica Hernandez focuses on the communications efforts that advance quantum information science (QIS) and technology at Berkeley Lab and secure U.S. leadership in quantum research and development. She specializes in the Advanced Quantum Testbed and Quantum Systems Accelerator. As a bilingual science communicator, Monica also produces QIS content in Spanish, which is rare in a fast-growing, developing field. At Berkeley Lab, she's been recognized with several distinctions, including the Director's Award for Exceptional Achievement in IDEA-Outreach.
The Advanced Quantum Testbed (AQT) is a state-of-the-art collaborative research laboratory funded by the U.S. Department of Energy Office of Science Advanced Scientific Computing Research program. The laboratory operates an open-access experimental testbed based on superconducting quantum hardware and is designed for deep collaboration with external users from academia, National Laboratories, and industry.
The Quantum Systems Accelerator (QSA) is a U.S. National Quantum Information Science Research Center funded by the Department of Energy Office of Science. QSA comprises 15 partner institutions— universities and national laboratories—bringing together pioneers of many of today's unique QIS and engineering capabilities. More than 250 QSA researchers are catalyzing U.S. leadership in a fast-growing field that seeks solutions to the Nation's and the world's most pressing problems by harnessing the laws of quantum mechanics.
With over a decade of professional experience in communications, public relations, and marketing, Monica has worked for visionary companies such as Ad Astra Rocket Company and Microsoft. She has also managed pan-regional public relations campaigns for global economic powerhouses, including Airbus and Ryder. She graduated with a dual bachelor's - master's degree from the Edmund A. Walsh School of Foreign Service at Georgetown University in Washington, D.C.
Born and raised in San Jose, Costa Rica, Monica is also proficient in French and basic Portuguese. In addition, Monica writes about space travel, research, and exploration in her own time. She looks forward to the development of quantum technologies that empower humanity on Earth and in space.
Web Articles
Others