Applied Computing for Scientific Discovery
Destinee Morrow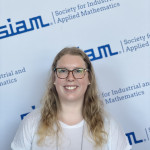 Destinee Morrow is a dynamic and motivated professional in data analytics, providing beneficial research for the improvement of public wellbeing.
She received her Masters of Science in Bioinformatics from Hood College (Frederick, Maryland) in 2020. Through the Sustainable Research Pathways (SRP) program, she interned under the mentorship of Dr. Xinlian Liu (Hood College) and Dr. Silvia Crivelli (LBNL). Soon after, she accepted a research associate position at LBNL working under Dr. Silvia Crivelli, which has evolved into a full-time staff position.
Her current research includes machine learning analysis. More specifically, natural language processing (NLP) for healthcare in collaboration with the Department of Veterans Affairs (VA). This work helps facilitate better decision making with regards to suicide, obstructive sleep apnea and lung cancer.
Destinee loves her work in the interdisciplinary sciences, and strives to see how computer science can continually improve our world.
Journal Articles
Nathan A. Kimbrel, Allison E. Ashley-Koch, Xue J. Qin, Jennifer H. Lindquist, Melanie E. Garrett, Michelle F. Dennis, Lauren P. Hair, Jennifer E. Huffman, Daniel A. Jacobson, Ravi K. Madduri, Jodie A. Trafton, Hilary Coon, Anna R. Docherty, Niamh Mullins, Douglas M. Ruderfer, Philip D. Harvey, Benjamin H. McMahon, David W. Oslin, Jean C. Beckham, Elizabeth R. Hauser, Michael A. Hauser, Million Veteran Program Suicide Exemplar Workgroup, International Suicide Genetics Consortium, Veterans Affairs Mid-Atlantic Mental Illness Research Education and Clinical Center Workgroup, Veterans Affairs Million Veteran Program,

"Identification of Novel, Replicable Genetic Risk Loci for Suicidal Thoughts and Behaviors Among US Military Veterans",

JAMA Psychiatry,

February 1, 2023,

80

:

100-191,

doi: 10.1001/jamapsychiatry.2022.3896