Applied Computing for Scientific Discovery
Bert de Jong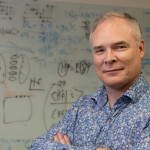 Wibe Albert
(Bert)
de Jong
Sr. Scientist, Group Lead, Dept. Head
Computational Science Department
Applied Computing for Scientific Discovery
Biographical Sketch
Bert de Jong leads the Applied Computing for Scientific Discovery Group, which advances scientific computing by developing and enhancing applications in key disciplines, as well as developing tools and libraries for addressing general problems in computational science. He currently serves as the Department Head for Computational Sciences.
de Jong is the deputy director of the Quantum Systems Accelerator, which is part of the National Quantum Initiative. In addition,de Jong is the team director of the Accelerated Research for Quantum Computing (ARQC) Team AIDE-QC, funded by DOE ASCR, focused on developing software stacks, algorithms, and computer science and applied mathematics solutions for chemical sciences and other fields on near-term quantum computing devices. He is also a co-PI on the ARQC team FAR-QC (led out of Sandia). He is the LBNL lead for the BES QIS project (led out of PNNL), where he is focusing on new approaches for encoding wave functions and embedding quantum systems. Prior to this, de Jong was the director of the LBNL Quantum Algorithms Team QAT4Chem.

de Jong is a co-PI within the DOE ASCR Exascale Computing Project (ECP) as the LBNL lead for the NWChemEx effort, contributing to the development of an exascale computational chemistry code. He is the LBNL lead for the Basic Energy Sciences SPEC Computational Chemistry Center (led out of PNNL), where he is working on reduced scaling MCSCF and beyond GW approaches for molecules.
de Jong is a co-PI on a DOE BES Rare Earth Project and a DOE BES carbon capture from air project, where he focuses on using machine learning and computational chemistry to discover new materials for rare earth separation, and designing new molecular crystals for carbon dioxide adsorption. He is also a co-PI on the recently funded RESTOR-C Earthshot. de Jong leads an effort on machine learning for chemical sciences, focused on developing deep learning networks (GANs and autoencoders) for the prediction of structure-function relationships and is developing approaches for inverse design. As part of this effort, his team developed the ML4Chem Python package.

In 2020 de Jong was elected as a Fellow of the AAAS.
de Jong publication record, citations and H-index can be found on Google Scholar or Publons. He is the Founding Editor-in-Chief for the IOP journal Electronic Structure, and a Principal Editor for Computer Physics Communications.
Prior to joining Berkeley Lab, de Jong was with the Pacific Northwest National Laboratory (PNNL). There he led the High-Performance Software Development Group responsible for NWChem at the Environmental Molecular Sciences Laboratory (EMSL), a national scientific user facility providing integrated experimental and computational resources for environmental molecular science research. de Jong earned his doctorate in theoretical chemistry in 1998 from the University of Groningen in the Netherlands. He earned his master's in chemistry from the University of Groningen in 1993 and his bachelor's degree in chemical engineering from the Technical College of Leeuwarden, the Netherlands, in 1990. He was a postdoctoral fellow at PNNL before transitioning to a staff member in 2000.