Applied Computing for Scientific Discovery
Bert de Jong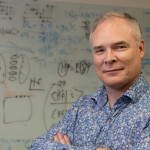 Wibe Albert
(Bert)
de Jong
Sr. Scientist, Group Lead, Dept. Head
Computational Science Department
Applied Computing for Scientific Discovery
Biographical Sketch
Bert de Jong leads the Applied Computing for Scientific Discovery Group, which advances scientific computing by developing and enhancing applications in key disciplines, as well as developing tools and libraries for addressing general problems in computational science. He currently serves as the Department Head for Computational Sciences.
de Jong is the deputy director of the Quantum Systems Accelerator, which is part of the National Quantum Initiative. In addition,de Jong is the team director of the Accelerated Research for Quantum Computing (ARQC) Team AIDE-QC, funded by DOE ASCR, focused on developing software stacks, algorithms, and computer science and applied mathematics solutions for chemical sciences and other fields on near-term quantum computing devices. He is also a co-PI on the ARQC team FAR-QC (led out of Sandia). He is the LBNL lead for the BES QIS project (led out of PNNL), where he is focusing on new approaches for encoding wave functions and embedding quantum systems. Prior to this, de Jong was the director of the LBNL Quantum Algorithms Team QAT4Chem.

de Jong is a co-PI within the DOE ASCR Exascale Computing Project (ECP) as the LBNL lead for the NWChemEx effort, contributing to the development of an exascale computational chemistry code. He is the LBNL lead for the Basic Energy Sciences SPEC Computational Chemistry Center (led out of PNNL), where he is working on reduced scaling MCSCF and beyond GW approaches for molecules.
de Jong is a co-PI on a DOE BES Rare Earth Project and a DOE BES carbon capture from air project, where he focuses on using machine learning and computational chemistry to discover new materials for rare earth separation, and designing new molecular crystals for carbon dioxide adsorption. He leads an effort on machine learning for chemical sciences, focused on developing deep learning networks (GANs and autoencoders) for the prediction of structure-function relationships and is developing approaches for inverse design. As part of this effort, his team developed the ML4Chem Python package.

In 2020 de Jong was elected as a Fellow of the AAAS.
de Jong publication record, citations and H-index can be found on Google Scholar or Publons. He is the Founding Editor-in-Chief for the IOP journal Electronic Structure, and a Principal Editor for Computer Physics Communications.
Prior to joining Berkeley Lab, de Jong was with the Pacific Northwest National Laboratory (PNNL). There he led the High-Performance Software Development Group responsible for NWChem at the Environmental Molecular Sciences Laboratory (EMSL), a national scientific user facility providing integrated experimental and computational resources for environmental molecular science research. de Jong earned his doctorate in theoretical chemistry in 1998 from the University of Groningen in the Netherlands. He earned his master's in chemistry from the University of Groningen in 1993 and his bachelor's degree in chemical engineering from the Technical College of Leeuwarden, the Netherlands, in 1990. He was a postdoctoral fellow at PNNL before transitioning to a staff member in 2000.
Journal Articles
Conference Papers
D. Jones, J. Bopaiah, F. Alghamedy, M. Jacobs, H.L. Weiss, W.A. de Jong, S.R. Ellingson,

"Polypharmacology Within the Full Kinome: a Machine Learning Approach",

AMIA Jt Summits Transl Sci Proc,

May 18, 2018,

2017

:

98-107,
Mathias Jacquelin, Wibe De Jong, Eric Bylaska,
"Towards highly scalable Ab initio molecular dynamics (AIMD) simulations on the Intel knights landing manycore processor",
Parallel and Distributed Processing Symposium (IPDPS), 2017 IEEE International,
January 1, 2017,
234--243,
The Hartree-Fock (HF) method is the fundamental first step for incorporating quantum mechanics into many-electron simulations of atoms and molecules, and it is an important component of computational chemistry toolkits like NWChem. The GTFock code is an HF implementation that, while it does not have all the features in NWChem, represents crucial algorithmic advances that reduce communication and improve load balance by doing an up-front static partitioning of tasks, followed by work stealing whenever necessary. To enable innovations in algorithms and exploit next generation exascale systems, it is crucial to support quantum chemistry codes using expressive and convenient programming models and runtime systems that are also efficient and scalable. This paper presents an HF implementation similar to GTFock using UPC++, a partitioned global address space model that includes flexible communication, asynchronous remote computation, and a powerful multidimensional array library. UPC++ offers runtime features that are useful for HF such as active messages, a rich calculus for array operations, hardware-supported fetch-and-add, and functions for ensuring asynchronous runtime progress. We present a new distributed array abstraction, DArray, that is convenient for the kinds of random-access array updates and linear algebra operations on block-distributed arrays with irregular data ownership. We analyze the performance of atomic fetch-and-add operations (relevant for load balancing) and runtime attentiveness, then compare various techniques and optimizations for each. Our optimized implementation of HF using UPC++ and the DArrays library shows up to 20% improvement over GTFock with Global Arrays at scales up to 24,000 cores.
Wim Lavrijsen, Costin Iancu, Wibe Albert de Jong, Xin Chen, Karsten Schwan,
"Exploiting Variability for Energy Optimization of Load Balanced Parallel Programs",
EuroSys 2016,
February 5, 2016,
Hongzhang Shan, Samuel Williams, Wibe de Jong, Leonid Oliker,
"Thread-Level Parallelization and Optimization of NWChem for the Intel MIC Architecture",
Programming Models and Applications for Multicores and Manycores (PMAM),
February 2015,
M Chabbi, W Lavrijsen, W De Jong, K Sen, J Mellor-Crummey, C Iancu,

"Barrier elision for production parallel programs",

Proceedings of the ACM SIGPLAN Symposium on Principles and Practice of Parallel Programming, PPOPP,

January 1, 2015,

2015-Jan

:

109--119,

doi: 10.1145/2688500.2688502
W.A. de Jong, L. Lin, H. Shan, C. Yang and L. Oliker,
"Towards modelling complex mesoscale molecular environments",
International Conference on Computational and Mathematical Methods in Science and Engineering (CMMSE),
2014,
Hongzhang Shan, Brian Austin, Wibe de Jong, Leonid Oliker, Nick Wright, Edoardo Apra,
"Performance Tuning of Fock Matrix and Two Electron Integral Calculations for NWChem on Leading HPC Platforms",
Performance Modeling, Benchmarking and Simulation of High Performance Computer Systems (PMBS),
November 2013,
doi: 10.1007/978-3-319-10214-6_13
Book Chapters
E. J. Bylaska, E. Apra, K. Kowalski, M. Jacquelin, W.A. de Jong, A. Vishnu, B. Palmer, J. Daily, T.P. Straatsma, J.R. Hammond, M. Klemm,

"Transitioning NWChem to the Next Generation of Many Core Machines",

Exascale Scientific Applications Scalability and Performance Portability,

edited by Tjerk P. Straatsma, Katerina B. Antypas, Timothy J. Williams,

(

Taylor & Francis:

November 9, 2017

)
J. Autschbach, N. Govind, R. Atta-Fynn, E.J. Bylaska, J.H. Weare, W.A. de Jong,

"Computational tools for predictive modeling of properties in complex actinide systems",

Computational Methods in Lanthanide and Actinide Chemistry, pp. 299-342, ed. M. Dolg, Wiley-Blackwell,

(

October 1, 2014

)
T.P. Straatsma, E.J. Bylaska, H.J.J van Dam, N. Govind, W.A. de Jong, K. Kowalski, M. Valiev,

"Advances in Scalable Computational Chemistry: NWChem",

Annual Reports in Computational Chemistry, Volume 7, pp. 151-177, ed. R. Wheeler, D. Spellmeyer, Elsevier,

(

October 12, 2011

)
N. Govind, E.J. Bylaska, W.A. de Jong, K. Kowalski, T.P. Straatsma, M. Valiev, H.J.J. van Dam,

"NWChem",

Encyclopedia of Parallel Computing, pp. 1345-1350, ed. D. Padua, Springer,

(

May 1, 2011

)
K. Kowalski, J.R. Hammond, W.A. de Jong, P.D. Fan, M. Valiev, D. Wang, N. Govind,

"Coupled Cluster Calculations for Large Molecular and Extended Systems",

"Computational Methods for Large Systems: Electronic Structure Approaches for Biotechnology and Nanotechnology, ed. J.R. Reimers,

(

2011

)
L. Visscher, W.A. de Jong, O. Visser, P.J.C. Aerts, H. Merenga, W.C. Nieuwpoort,

"Relativistic Quantum Chemistry. The MOLFDIR Program Package",

Methods and Techniques in Computational Chemistry: METECC-95, ed. E. Clementi and G. Corongiu, Cagliari,

(

1995

)
W.A. de Jong, L. Visscher, O. Visser, P.J.C. Aerts, W.C. Nieuwpoort,

"MOLFDIR: A Program Package for Molecular Dirac-Fock-CI Calculations",

New Challenges in Computational Quantum Chemistry", ed. R. Broer, P.J.C. Aerts and P. Bagus, University of Groningen,

(

January 1, 1993

)
Reports
Hongzhang Shan, Samuel Williams, Wibe de Jong, Leonid Oliker,
"Thread-Level Parallelization and Optimization of NWChem for the Intel MIC Architecture",
LBNL Technical Report,
October 2014,
LBNL 6806E,