Terry Ligocki Retires After 26 Years at Berkeley Lab
June 22, 2022
Terry Ligocki has always been fascinated by math. After learning that 1+1=2 in the first grade, he spent an entire Saturday morning working on an addition table, writing out: 2+2=4, 3+3=6, all the way to 50+50=100, while his parents slept in and his friends watched cartoons.
When his mother saw the addition table, she asked him how he knew all the answers. He replied that he didn't; he just noticed a pattern — all the numbers after the equal sign increased by two after the first one. This interest and instinct for math and solving problems led Ligocki to some of his other life passions, including computational science, visualization, applied mathematics, and origami. This month, Ligocki will retire from Berkeley Lab after a 26-year career.
"My whole technical journey has been one of following the things that fascinate me and are fun," said Ligocki. "I probably could have worked in industry for two or three times my salary, but the Scientific Visualization Group and the Applied Numerical Algorithms Group (ANAG) at Berkeley Lab provided a supportive environment for me to work on interesting math problems, which has been invaluable."
Although Ligocki loved math, his career in the field wasn't always a certainty. When he was a teenager in Milwaukee, Wisconsin, Ligocki's high school math teacher recognized his aptitude for the subject and developed some independent study projects for him; meanwhile, an early computer science class introduced him to computing. Noticing his interest, the computer science teacher gave him open access to the school's computer lab. He credits these teachers for solidifying his interest in math and computer science.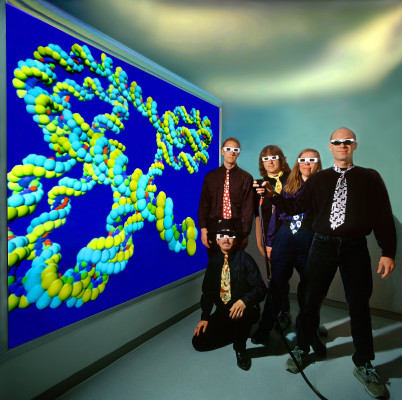 When college application season came around, Ligocki knew he wanted to do something with math but didn't know which university to attend. Since his best friend was applying to a school called Caltech (California Institute of Technology), and the application seemed relatively short (four pages total), he decided he'd do the same. Ligocki got in; his friend didn't.
When he arrived at Caltech as a freshman, Ligocki still knew nothing about the school. It wasn't until he received an "above-average" score of 20 out of a 100 on his first physics test that he realized just how challenging college would be. As an undergraduate, he decided to follow his passion and major in math. By his senior year, he'd taken so many computer science courses that he qualified for a double major.
After graduating from Caltech, he decided to take a break from math and pursue a Ph.D. degree in computer science at the University of Washington. But at this point in life, Ligocki wasn't completely focused on school—he took classes on and off and worked full-time jobs–it took him three years to finish his master's degree.
He then married his longtime girlfriend, and they moved to Oregon so she could finish her Ph.D. They had their first child, and then Ligocki got an unexpected offer to work on the Mars Observer Camera at the Jet Propulsion Laboratory in Pasadena. After two years at JPL and the birth of two more children, Ligocki realized he wanted to take another shot at graduate-level math. So his family ended up in Northern California so he could pursue a Ph.D. in mathematics at UC Berkeley.
"I basically wanted to do this last run in math and see where it led. But going back to school this time was very different; I had a family and a house, and I found that I was closer to the professors than the students," said Ligocki.
After his first year in graduate school, Ligocki's professor and Berkeley Lab scientist Alexandre Chorin hired him as a Lab student researcher to perform fluid dynamic visualizations of vortex ring (VR) interactions. At Berkeley Lab, Ligocki met Wes Bethel, who was exploring VR and other technologies for high-performance scientific visualization. Bethel was offering classes in scientific visualization, and Ligocki was among the first to sign up and delighted in it.
After Ligocki finished his Ph.D. in 1995, his wife passed away suddenly. The National Energy Research Scientific Computing Center (NERSC) had just moved to Berkeley Lab, and several positions opened up in the Visualization group, then led by Nancy Johnston. Realizing that his family needed stability, Ligocki joined Bethel in Johnston's Visualization group in April 1996.
"I have fond memories of that beginning. Wes was just starting to play around with VR, and we really bonded over our interest in it. The visualization group was expanding, and we were all trying different things and finding innovative ways to use this technology. It was so esoteric at the time that we relied on each other to solve problems," said Ligocki. "I made lifelong friends in that group."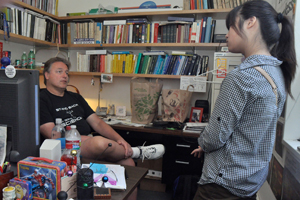 But after five years in the visualization group, Ligocki felt like something was missing and looked for opportunities at the Lab that would allow him to do even more math. That's when he found an opening in Phil Collela's Applied Numerical Algorithms Group (ANAG), working on embedded boundaries.
"ANAG was very attractive to me because I got to do math as part of my everyday job. Phil was a great leader in advocating for the group and was very supportive of me personally. I soon realized that in ANAG, I could live my life and career and have friends that would support me," said Ligocki. "By that point, I had worked enough places to know that this isn't something you find everywhere."
Ligocki would spend the next 21 years, the rest of his career, in ANAG. During his time at Berkeley Lab, he continued to do origami which he had started to do while procrastinating writing his Ph.D. thesis. Over the years, Ligocki would host origami workshops for Berkeley Lab summer students.
"My advice for anyone working at Berkeley Lab and in general is to find a group of people that are working on things you are interested in and who you'd like to be friends with; this will soften the problems that arise over time and give you longevity in the workplace," said Ligocki.
In retirement, Ligocki plans on using his creative energy to work on math problems that are interesting to him, but not necessarily funded by the Department of Energy, including the Busy Beaver problem and generalized Prince Rupert's problem. He will also spend his time traveling, meeting with friends, and doing origami.
---
About Berkeley Lab
Founded in 1931 on the belief that the biggest scientific challenges are best addressed by teams, Lawrence Berkeley National Laboratory and its scientists have been recognized with 16 Nobel Prizes. Today, Berkeley Lab researchers develop sustainable energy and environmental solutions, create useful new materials, advance the frontiers of computing, and probe the mysteries of life, matter, and the universe. Scientists from around the world rely on the Lab's facilities for their own discovery science. Berkeley Lab is a multiprogram national laboratory, managed by the University of California for the U.S. Department of Energy's Office of Science.
DOE's Office of Science is the single largest supporter of basic research in the physical sciences in the United States, and is working to address some of the most pressing challenges of our time. For more information, please visit energy.gov/science.