Computational Biosciences Group Expands its Reach
Kris Bouchard Named Group Lead as of Feb. 1
February 16, 2021
Created just two years ago, the Computational Biosciences Group – part of the Computational Research Division (CRD) at Lawrence Berkeley National Laboratory – has made significant progress in laying the groundwork for collaborative research between computing scientists and biologists across the lab and beyond.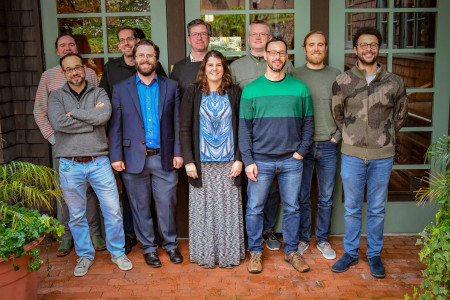 From the get-go, Computational Biosciences was designed to tap into the lab's expertise in these two fields, crossing organizational lines to bring together computationally minded biologists and biology-interested computer scientists to co-develop innovative tools for addressing a range of scientific challenges. The group has already expanded from its original 10 staff members to an interest group of 50-60 researchers, postdocs, and other affiliates, and is steadily growing its outreach efforts for scientific collaborations as well.
"One of the major hurdles that has impeded the connection of computing and biology at the lab is having a platform and venue to talk about problems and ideas at the intersection of interests across the fields – this is what the past year and a half has really been about," said Kris Bouchard, who was named Group Lead on February 1 after serving in an acting capacity for the past two years. "We have also been identifying technical gaps at the intersection of our computing capabilities and biological science capabilities and making sure that people know we are here and feel welcome to participate and speak their mind. As with all interdisciplinary endeavors, it takes time to build something from the ground up, but we are starting to do that quite effectively."
As a result, they are seeing burgeoning collaborations and conversations between people in the Joint Genome Institute, the Joint Bioenergy Institute, CRD, other bioscience groups affiliated with the lab, and external partners. "It is about understanding the problems and making sure we are not trying to impose a solution on them that they don't really want, plus making sure the depth of computing challenges are appreciated and not given short shrift," Bouchard said.
These efforts are beginning to yield tangible results. The group recently received a DOE Advanced Scientific Computing Research (ASCR) award that will support researchers in both CRD and Biosciences to develop and apply artificial intelligence to microbiome data, in connection with the National Microbiome Data Collaborative run by the Biosciences Area. They also have a joint CRD and Biosciences Laboratory Directed Research and Development Program project to explore artificial intelligence and simulations for biomanufacturing as part of the Accelerating Therapeutics for Opportunities in Medicine (ATOM) consortium.
"We are also formulating plans for potential strategic technical hires to fill gaps, and looking at funding opportunities that fit into both the Computing Sciences Area and Biosciences Area Strategic Plans to support new research with the cross-area teams we have been fostering," Bouchard said.
Being able to tap into these opportunities will be critical to further expanding the group and its research efforts, he added. "A diverse portfolio will be key to our success going forward, with support from BER and ASCR to NIH and the DoD. There are a lot of opportunities out there."
Related reading:
New Computational Biosciences Group Aims to Build on Lab Strengths, Break Down Barriers
---
About Berkeley Lab
Founded in 1931 on the belief that the biggest scientific challenges are best addressed by teams, Lawrence Berkeley National Laboratory and its scientists have been recognized with 16 Nobel Prizes. Today, Berkeley Lab researchers develop sustainable energy and environmental solutions, create useful new materials, advance the frontiers of computing, and probe the mysteries of life, matter, and the universe. Scientists from around the world rely on the Lab's facilities for their own discovery science. Berkeley Lab is a multiprogram national laboratory, managed by the University of California for the U.S. Department of Energy's Office of Science.
DOE's Office of Science is the single largest supporter of basic research in the physical sciences in the United States, and is working to address some of the most pressing challenges of our time. For more information, please visit energy.gov/science.