Scalable Solvers Group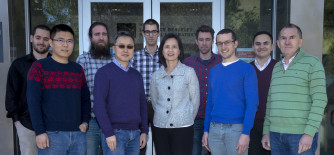 Our Mission
Develop efficient linear and eigensolver algorithms and fast, scalable, library implementations. Integrate the new algorithms and software into DOE applications.

Current expertise in SSG includes:
Dense linear algebra
Factorization-based sparse solvers and preconditions
Multigrid methods
Sparse eigensolvers
Optimization, machine learning
Communication-avoiding algorithms (see, e.g., http://bebop.cs.berkeley.edu/)
Mathematical software
Group Leader: X. Sherry Li
Position openings
None right now.