Sustainable Software Engineering
Karlo Berket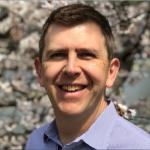 Computer Systems Engineer
Karlo Berket is a Computer Systems Engineer in the Sustainable Software Engineering group at Lawrence Berkeley National Laboratory (LBL). With extensive practical experience spanning distributed systems, service-oriented architectures, data engineering, and application development, Karlo brings valuable expertise to his role.
After spending 15 years in industry working in engineering and leadership positions at companies such as Meta, Under Armour, MyFitnessPal, and Amazon, Karlo rejoined LBL in May 2023. These diverse industry experiences have not only refined his skills but also deepened his understanding of cutting-edge technologies and their real-world applications.
Karlo holds a Ph.D. in Electrical and Computer Engineering from the University of California, Santa Barbara, and a B.E. in Electrical Engineering from The Cooper Union for the Advancement of Science and Art.