Performance and Algorithms Research
Prashant Pandey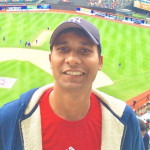 Prashant Pandey
is an affiliate of the
Performance and Algorithms Research Group at
Lawrence Berkeley National Laboratory
. His research interests lie at the intersection of systems and algorithms.
He designs and builds theoretically well-founded data structures for massive data problems in computational biology, storage, and streaming. Prior to this, he obtained his Ph.D. in Computer Science at
Stony Brook University
in 2018 and did a one-year postdoc at
Carnegie Mellon University
.