CCSE
Andrew Myers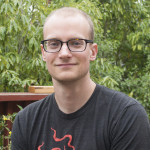 Computer Systems Engineer
I am a member of the Center for Computational Sciences and Engineering (CCSE) at the Lawrence Berkeley National Laboratory (LBNL). My current research focuses on the design and implementation of scalable parallel algorithms for conducting particle and particle-mesh simulations on current and upcoming supercomputing architectures, particularly in the context of adaptive mesh refinement. These algorithms have applications to the modelling of, for example, large-scale structure formation in cosmology, plasma acceleration in particle accelerators, and the solids phase in multi-phase flow problems.

More generally, I am interested in parallel algorithms for scientific computing (particularly for GPU platforms), particle methods, and the visualization and analysis of large simulation datasets.
Much of my work is open source and can be followed on my Github page.
You can read more about my current projects here.
Journal Articles
Conference Papers
B Loring, A Myers, D Camp, EW Bethel,
"Python-based in situ analysis and visualization",
Proceedings of the Workshop on In Situ Infrastructures for Enabling Extreme-Scale Analysis and Visualization - ISAV 18,
ACM Press,
2018,
doi: 10.1145/3281464.3281465
Posters
Revathi Jambunathan, Andrew Myers, Donald Willcox, Jean-Luc Vay, Ann Almgren, Diana Amorim, John Bell, Kevin Gott, Axel Huebl, Remi Lehe, Micahel Rowan, Olga Shapoval, Maxence Thevenet, Weiqun Zhang,
"WarpX: Towards exascale modeling of pulsar magnetospheres",
Connecting Micro and Macro Scales: Acceleration, Reconnection, and Dissipation in Astrophysical Plasmas,
September 9, 2019,