Scientific Data Management Research
Mariam Kiran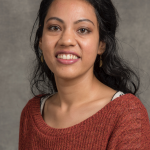 Research Scientist
ESnet/CRD
Biographical Sketch
Mariam Kiran is a research scientist with shared positions with Energy Sciences Network (ESnet) and the Scientific Data Management (SDM) group in the Scientific Data Division. Her work specifically concentrates on using advanced software and machine learning techniques to advance system architectures, particularly high-speed networks such as DOE networks.
Her current work is exploring reinforcement learning, unsupervised clustering and classification techniques to optimally control distributed network resources, improving high-speed big data transfers for exascale science applications, and optimizing how current network infrastructure is utilized. Kiran is the recipient of the DOE ASCR Early Career Award in 2017. Before joining LBNL in 2016, Kiran held positions as a lecturer and research fellow at the Universities of Sheffield and Leeds in the UK. She earned her undergrad and Ph.D. degrees in software engineering and computer science from the University of Sheffield, UK in 2011.
Get more updates on Kiran's research projects.
Journal Articles
Sugeerth Murugesan, Mariam Kiran, Bernd Hamann, Gunther H. Weber,
"Netostat: Analyzing Dynamic Flow Patterns in High-Speed Networks",
Cluster Computing,
2022,
doi: 10.1007/s10586-022-03543-0
M Kiran, A Chhabra,

"Understanding flows in high-speed scientific networks: A Netflow data study",

Future Generation Computer Systems,

February 1, 2019,

94

:

72-79,
Mariam Kiran, Anshuman Chhabra,
"Understanding flows in high-speed scientific networks: A Netflow data study",
Future Generation Computer Science,
2019,
F Alali, N Hanford, E Pouyoul, R Kettimuthu, M Kiran, B Mack-Crane, B Tierney, Y Kumar, D Ghosal,

"Calibers: A bandwidth calendaring paradigm for science workflows",

Future Generation Computer Systems,

2018,

89

:

736--745,

doi: 10.1016/j.future.2018.07.030
M Gribaudo, M Iacono, M Kiran,

"A performance modeling framework for lambda architecture based applications",

Future Generation Computer Systems,

2018,

86

:

1032--1041,

doi: 10.1016/j.future.2017.07.033
M Kiran, E Pouyoul, A Mercian, B Tierney, C Guok, I Monga,

"Enabling intent to configure scientific networks for high performance demands",

Future Generation Computer Systems,

2018,

79

:

205--214,

doi: 10.1016/j.future.2017.04.020
T Eftonova, M Kiran, M Stannett,

"Long-term Macroeconomic Dynamics of Competition in the Russian Economy using Agent- based Modelling.",

IJSDA,

2017,

6

:

1--20,
B Mohammed, M Kiran, I-U Awan, KM Maiyama,
"An Integrated Virtualized Strategy for Fault Tolerance in Cloud Computing Environment",
2016 Intl IEEE Conferences on Ubiquitous Intelligence & Computing, Advanced and Trusted Computing, Scalable Computing and Communications, Cloud and Big Data Computing, Internet of People, and Smart World Congress (UIC/ATC/ScalCom/CBDCom/IoP/SmartWorld),
2016,
542--549,
doi: 10.1109/UIC-ATC-ScalCom-CBDCom-IoP-SmartWorld.2016.0094
M Kiran, A Simons,

"Testing Software Services in Cloud Ecosystems",

International Journal of Cloud Applications and Computing,

2016,

6

:

42--58,

doi: 10.4018/ijcac.2016010103
Conference Papers
Presentation/Talks
D. Bard, C. Snavely, L. Gerhardt, J. Lee, B. Totzke, K. Antypas, S. Byna, R. Cheema, S. Cholia, M. Day, B. Enders, A. Gaur, A. Greiner, T. Groves, M. Kiran, Q. Koziol, K. Rowland, C. Samuel, A. Selvarajan, A. Sim, D. Skinner, R. Thomas, G. Torok,
The Superfacility project: automated pipelines for experiments and HPC,
International Conference for High Performance Computing, Networking, Storage, and Analysis (SC20), State of the Practice (SOP),
2020,
Reports
D. Bard, C. Snavely, L. Gerhardt, J. Lee, B. Totzke, K. Antypas, W. Arndt, J. Blaschke, S. Byna, R. Cheema, S. Cholia, M. Day, B. Enders, A. Gaur, A. Greiner, T. Groves, M. Kiran, Q. Koziol, T. Lehman, K. Rowland, C. Samuel, A. Selvarajan, A. Sim, D. Skinner, L. Stephey, R. Thomas, G. Torok,
"LBNL Superfacility Project Report",
Lawrence Berkeley National Laboratory,
2022,
doi: 10.48550/arXiv.2206.11992