Computational Cosmology Center
Kaylan Burleigh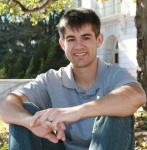 Kaylan Burleigh is a sixth-year graduate student in Astronomy at UC Berkeley. He graduated from The University of Arizona in 2012 with Bachelors of Science in Physics, Astronomy. He finds all problems interesting, so has learned to choose research projects based on the group of people involved, not just the specific field or research topic. His research projects have varied from Mars and Saturn, to star formation, and now to cosmology for his PhD thesis.
Kaylan is a member of the Dark Energy Spectroscopic Instrument, which will use a three telescope imaging survey of the night to identify and take spectra of 30 million galaxies. Kaylan helps develop and run the image analysis pipeline for the three telescope survey, most recently for their 4th Data Release (
http://legacysurvey.org/dr4/description/
) which found 180 million objects. The primary deliverable of his PhD thesis is to understand the systematic errors in classifying and counting galaxies using this data.