Quantum Information Science & Technology
Gerwin Koolstra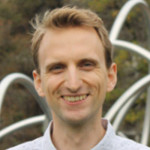 Postdoctoral Research Fellow
Quantum Information Science & Technology
Gerwin Koolstra has been a postdoctoral researcher with the Advanced Quantum Testbed since 2019. He earned his PhD in physics at the University of Chicago in the laboratory of David Schuster.
At Lawrence Berkeley National lab he focusses on the development of experimental quantum devices that are more resilient to certain types of noise. Quantum circuits such as the Kerr cat qubit and the Biased Noise Fluxonium promise to be a great alternative to transmon qubits, because their errors can be more successfully corrected in certain quantum error correction protocols. The main challenge in these platforms is designing a scalable two-dimensional architecture and development of high fidelity gates for quantum computation.
In addition, Gerwin works on merging methods from machine learning with superconducting qubit measurements. Earlier work in our lab has found that Recurrent Neural Networks (RNNs) are well suited to identify quantum trajectories we obtain from weak qubit measurements. In two recent works we have applied these RNNs to characterize qubits with minimal prior information, and we have shown that the RNN predicts accurate quantum trajectories, even though stochastic master equation methods fail. This shows that machine learning can be useful for characterization of our devices and can help us discover corrections to well known methods in new regimes of weak measurement.
Journal Articles
G Koolstra, N Stevenson, S Barzili, L Burns, K Siva, S Greenfield, W Livingston, A Hashim, RK Naik, JM Kreikebaum, KP O'Brien, DI Santiago, J Dressel, I Siddiqi,
"Monitoring fast superconducting qubit dynamics using a neural network",
Preprint,
August 2021,