Mathematics Group
Chris Rycroft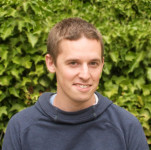 Visiting Faculty Scientist
Bio
Chris Rycroft is an associate professor of applied mathematics in the Harvard John A. Paulson School of Engineering and Applied Sciences. He is interested in mathematical modeling and scientific computation for interdisciplinary applications in science and engineering. He is particularly interested in the mechanics of materials, numerical methods, and geometry. He has released several software libraries, including Voro++ for three-dimensional computations of the Voronoi tessellation, a technique in computational geometry that has a wide range of applications.

Prior to his appointment at Harvard, Rycroft was a Morrey Assistant Professor in the Department of Mathematics at the University of California, Berkeley. While in Berkeley, he was part of the Bay Area Physical Sciences–Oncology Center (PS–OC), where he investigated how cancer cells mechanically interact with each other and their environment.
Rycroft is a visiting faculty scientist at the Lawrence Berkeley Laboratory, where he has worked on several projects relating to energy production and efficiency. He obtained his Ph.D. in Mathematics in 2007 from the Massachusetts Institute of Technology.
Journal Articles
Conference Papers
Chris H. Rycroft, Terttaliisa Lind, Salih Güntay, Abdel Dehbi,

"Granular Flow in Pebble Bed Reactors: Dust Generation and Scaling",

International Congress on Advances in Nuclear Power Plants 2012 (ICAPP 2012),

Chicago, IL,

Curran Associates, Inc.,

2012,

1

:

447,
T. Lind, S. Güntay, A. Dehbi, Y. Liao, C. H. Rycroft,
"PSI Project on HTR Dust Generation and Transport",
5th International Conference on High Temperature Reactor Technology (HTR),
2010,
Web Articles
A detailed analysis of more than 4 million absorbent minerals has determined that new materials could help electricity producers slash as much as 30 percent of the "parasitic energy" costs associated with removing carbon dioxide from power plant emissions...
When power plants begin capturing their carbon emissions to reduce greenhouse gases – and to most in the electric power industry, it's a question of when, not if – it will be an expensive undertaking...
Posters
Richard L. Martin, Thomas F. Willems, Chris H. Rycroft, Prabhat, Michael Kazi and Maciej Haranczyk,
"High-throughput structure analysis and descriptor generation for crystalline porous materials",
International Conference on Chemical Structures (Noordwijkerhout, Netherlands),
June 5, 2011,
Others
Crystalline porous materials are some of the most important synthetic products ever made...
C.H. Rycroft, M. Koeppe, F. Lam,
Recombination lower bounds for missing and circular data: a branch and bound approach,
preprint,
2010,