Bashir Mohammed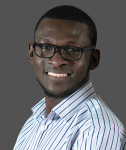 Postdoctoral Scholar
Computational Research Division(CRD)
Lawrence Berkeley National Laboratory
One Cyclotron Road,
50B-3233B
Berkeley
,
California
CA 94720
US
Bashir joined the Scientific Data Management Group as a postdoctoral scholar on the "Deep and Autonomic High-Performance Networks (DAPHNE) project under the supervision of Dr. Mariam Kiran of Esnet and Dr. John Wu. He is currently working on enabling the design and control of intelligent networks that allow improved response, utilization and reliability for exascale scientific workflows using machine learning approaches.

Bashir received his PhD in Computer Science from the University of Bradford UK, where he was part of the Network and Performance Engineering(NetPEn) Reseach group and the Center for Visual Computing. Bashir has a Bachelor's degree in Electrical and Computer Engineering from the Federal University of Tech. Minna (Nigeria) and a Master's degree in Control Systems from the University of Sheffield (United Kingdom). He was an intern with Rolls-Royce University Technology Center in Sheffield where he developed a control and optimization algorithm for the modelling of gas turbine engines.
» Visit Bashir Mohammed's personal web page.