Sean Peisert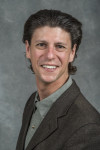 Staff Scientist
Computational Research Division
Biographical Sketch
Dr. Sean Peisert leads computer security research and development at Lawrence Berkeley National Laboratory. He is also both a full adjunct professor of Computer Science at the University of California, Davis and of Health Informatics at the University of California, Davis School of Medicine.
His current research and development interests cover a broad cross section of usable and useful computer security and privacy solutions, particularly in enabling secure and privacy-preserving scientific data analysis, and improving security in high-performance computing systems, and power grid control systems. He is also chief cybersecurity strategist for CENIC and a co-lead of Trusted CI, the NSF Cybersecurity Center of Excellence.
At CENIC, he is responsible for cybersecurity strategy and implementation for CENIC's enterprise as well as for CalREN, a high-capacity network designed to meet the unique requirements of CENIC's constituent population of over 10,000 institutions and 20 million users.
Professor Peisert is editor-in-chief of IEEE Security & Privacy;  a member of the DARPA Information Science and Technology (ISAT) Study Group; a member of the Distinguished Expert Review Panel for the NSA Annual Best Scientific Cybersecurity Paper Competition; a steering committee member and past general chair of the New Security Paradigms Workshop (NSPW); steering committee member and past program co-chair of the USENIX Workshop on Cyber Security Experimentation and Test (CSET); past chair of the IEEE Computer Society Technical Committee on Security & Privacy; and steering committee member and past general chair for the IEEE Symposium on Security and Privacy, the flagship conference for security research.
He has led numerous cybersecurity-related working groups, including co-leading the 2012 Dagstuhl Seminar on Organizational Processes for Supporting Sustainable Security; leading two workshops in 2015 for the U.S. Department of Energy's Office of Advanced Scientific Computing Research examining research needs in high-performance computing cybersecurity; leading formation of the DOE Integrated Joint Cybersecurity Coordination Center (iJC3) Cyber R&D Enterprise Cybersecurity Capability (ECC), — an R&D effort composed of 10 DOE National Labs.
In 2007, he was honored as a Research Fellow by the Institute for Information Infrastructure Protection, funded by the U.S. Department of Homeland Security, and in 2014, his work received an award from the Director of Science and Technology for the U.S. Office of the Director of National Intelligence (ODNI).
Previously, Dr. Peisert was an I3P Research Fellow, was a computer security researcher at the San Diego Supercomputer Center (SDSC), and was a Senior Fellow in the Berkeley Institute for Data Science at UC Berkeley. He received his Ph.D., Masters, and Bachelors degrees in Computer Science from UC San Diego.
He also works closely with ESnet.
More information on:
Some select, recent news:
Sean Peisert Named to DARPA ISAT Study Group — Jun. 16, 2021
CIGAR 'Smokes Out' Attacks on Solar Electrical Power Equipment — Jun. 7, 2021
Announcing the 2021 Trusted CI Annual Challenge on Software Assurance (Trusted CI Blog) — Mar. 30, 2021
Summer Students Tackle COVID-19 — Oct. 21, 2020
Data Confidentiality Issues and Solutions in Academic Research Computing (Trusted CI Blog) — Sept. 10, 2020
Sean Peisert named editor-in-chief of IEEE Security and Privacy (IEEE CS | LBNL | UC Davis) — Jul. 10, 2020
Fantastic Bits and Why They Flip (Trusted CI Blog) — Jun. 23, 2020
Using Physics to Keep Our Electrical Grid Safe — Oct. 24, 2019
Impact of AI in DOE National Laboratories (YouTube video) (security discussion at 1'07") — Sept. 29, 2019
Solar power opens up new targets for cyber attackers (Archer News) — May 30, 2019
Cyberattacks threaten smart inverters, but scientists have solutions (Solar Power World) — April 30, 2019
Berkeley Lab Cybersecurity Specialist Highlights Data Sharing Benefits, Challenges at NAS Meeting — Dec. 4, 2018
Expert Q&A: Safeguarding the Nation's Energy Infrastructure (TABL) — Oct. 26, 2018
Berkeley Lab Contributes to $2.5M supplemental grant for NSF-funded Cybersecurity Center of Excellence — Oct. 5, 2018
Electric grid protection through low-cost sensors, machine learning (GCN) — Sept. 21, 2018
Cyber Defense Tool Is an Early Warning System for Grid Attacks (IEEE Spectrum Energywise Blog) — March 27, 2018
Berkeley Lab's cybersecurity expert Sean Peisert discusses challenges & opportunities of securing HPC — Aug. 24, 2017
HPC security article in Communications of the ACM
Video accompanying HPC security article on Vimeo
» Some recent publications are listed below. For a full list of publications and other information, please visit Sean Peisert's personal web page.
Journal Articles
Conference Papers
Book Chapters
Matt Bishop, Sophie Engle, Deborah A. Frincke, Carrie Gates, Frank L. Greitzer, Sean Peisert, Sean Whalen,

"A Risk Management Approach to the "Insider Threat"",

Insider Threats in Cyber Security, "Advances in Information Security" Series,

edited by Christian W. Probst, Jeffrey Hunker, Matt Bishop,

(

Springer:

September 2010

)

Pages: 115-138

doi: 10.1007/978-1-4419-7133-3_6
Presentation/Talks
Reports
Posters
PURPOSE: Mechanical ventilation is a life-saving intervention but is associated with adverse effects including ventilator-induced lung injury (VILI). Patient-ventilator asynchrony (PVA) is thought to contribute to VILI, but the study of PVA has been hampered by limited access to the high frequency, large volume data streams produced by modern ventilators and a lack of robust analytics. To address these limitations, we developed an automated pipeline for breath-by-breath analysis of ventilator waveform data.

METHODS: Simulated pressure and flow time series data representing normal breaths and common forms of PVA were generated on PB840 ventilators, collected unobtrusively using small, customized wireless peripheral devices, and transmitted to a networked server for storage and analysis. Two critical care physicians reviewed all waveforms to generate gold standards. Rule-based algorithms were developed to quantify inspiratory and expiratory tidal volumes (TV) and identify PVA subtypes including double trigger and delayed termination asynchrony. Data were split randomly into derivation and validation sets. Algorithm performance was compared to ventilator reported values and clinician annotation.

RESULTS: The mean difference between algorithm-determined and ventilator-reported TVs was 3.1% (99% CI ± 1.36%). Algorithm agreement with clinician annotation was excellent for double trigger PVA and moderate for delayed termination PVA, with Kappa statistics of 0.85 and 0.58, respectively. In the validation data set (n = 492 breaths), double trigger asynchrony was detected with an overall accuracy of 94.1%, sensitivity of 100%, and specificity of 92.8%.

CONCLUSIONS: A pipeline combining wireless ventilator data acquisition and rule-based analytic algorithms informed by the principles of bedside ventilator waveform analysis allows for automated, quantitative breath-by-breath analysis of patient-ventilator interactions.

CLINICAL IMPLICATIONS: We have recently deployed this system in the medical intensive care unit of the UC Davis Medical Center, which will enable further development of mechanical ventilation analytics. We have begun to explore the use of supervised machine learning and dynamic time series modeling to improve the classification of other common types of PVA and of clinical phenotypes associated with respiratory failure. This system will help to better define the epidemiology and clinical impact of PVA and other forms of off-target mechanical ventilation, and may lead to improved decision support and patient outcomes.
Others