Daniel Waters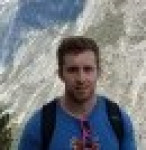 Computer Systems Engineer
Daniel Waters is a Computer Systems Engineer in CLaSS and also works with CRD's Applied Numerical Analysis Group on Proto.
His current research focus is on implementing an efficient stencil-calculation algorithm using CUDA.
Originally from Groton, MA, he earned his B.A. degree from Kenyon College in 2014 and his master's from the University of Chicago in 2016. His interest in HPC and working at national labs (he's worked at three now: Argonne, Livermore, and Berkeley) was initially sparked during his tenure at the University of Chicago.