Costin Iancu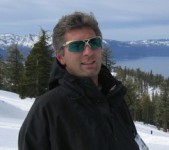 I am performing research in the areas of programming models and code optimization for large scale parallel systems.  I tend to favor simple and practical designs. Over the years I've been involved in multiple projects.
Big Data Support on HPC Systems. (Intel Parallel Computing Center): There exists incentive in the HPC community to run commercial data analytics frameworks (Hadoop, Spark) on  capability systems. Adoption, so far has been hampered by design decisions that are commercial data-center specific, e.g. local disk available. We plan to explore R&D for technologies to enable  Spark to run on large scale HPC systems. The IPCC is part of our larger research agenda and focuses on improving the interaction between Spark and the Lustre parallel global file system on production systems at NERSC. First notable accomplishment is that we show how to scale Spark from 100 cores to 10.000 cores on production HPC systems.
CORVETTE (Correctness, Verification and Testing of Parallel Programs):

 I'm interested in tools that assist developers in bug finding or program state exploration for debugging or optimization purposes. The focus is on developing a scalable dynamic program analysis framework for the HPC programming models

  Berkeley UPC: 

I did write a lot of the compiler code and moved on to code optimizations, where I've been successful when using a combination of static and dynamic program analyses to guide communication and task scheduling optimizations.  To guide optimizations, I'd rather use "qualitative" performance models over the more traditional approaches: track derivatives and preserve ordering rather than predict absolute values. 

THOR (Throughput Oriented Runtime):

 In this project we are trying to build a software overlay  network to perform on-the-fly communication optimizations for large scale systems.  There are three dimensions of control: concurrency, order and granularity. We have developed mechanisms to regulate the concurrency of communication operations, avoid congestion, scheduling/reordering for improved throughput etc.
The individual project pages contain more information: slides, posters, software, fun ...
Journal Articles
Nicholas Chaimov, Khaled Z. Ibrahim, Samuel Williams, Costin Iancu,
"Reaching Bandwidth Saturation Using Transparent Injection Parallelization",
International Journal of High Performance Computing Applications (IJHPCA),
November 2016,
doi: 10.1177/1094342016672720
Nicholas Chaimov, Khaled Ibrahim, Samuel Williams, Costin Iancu,
"Exploiting Communication Concurrency on High Performance Computing Systems",
IJHPCA,
April 17, 2015,
Khaled Z. Ibrahim, Steven Hofmeyr, Costin Iancu,
"The Case for Partitioning Virtual Machines on Manycore Architectures",
IEEE TPDS,
April 17, 2014,
S Hofmeyr, J Colmenares, J Kubiatowicz, C Iancu,
"Juggle: Addressing Extrinsic Load Imbalances in SPMD Applications on Multicore Computer",
Cluster Computing,
2012,
Conference Papers
Book Chapters
L. Oliker, A. Canning, J. Carter, C. Iancu, M. Lijewski, S. Kamil, J. Shalf, H. Shan, E. Strohmaier, S. Ethier, T. Goodale,

"Performance Characteristics of Potential Petascale Scientific Applications",

Petascale Computing: Algorithms and Applications. Chapman & Hall/CRC Computational Science Series (Hardcover),

edited by David A. Bader,

(

2007

)
Presentation/Talks
Yili Zheng, Filip Blagojevic, Dan Bonachea, Paul H. Hargrove, Steven Hofmeyr, Costin Iancu, Seung-Jai Min, Katherine Yelick,
Getting Multicore Performance with UPC,
SIAM Conference on Parallel Processing for Scientific Computing,
February 2010,
Yili Zheng, Costin Iancu, Paul H. Hargrove, Seung-Jai Min, Katherine Yelick,
Extending Unified Parallel C for GPU Computing,
SIAM Conference on Parallel Processing for Scientific Computing,
February 24, 2010,
Reports
Cindy Rubio-Gonz ́alez, Cuong Nguyen, James Demmel, William Kahan, Koushik Sen, Wim Lavrijsen, Costin Iancu,
"Floating Point Precision Tuning Using Blame Analysis",
LBNL TR,
April 17, 2015,
Xuehai Qian, Koushik Sen, Paul Hargrove, Costin Iancu,
"OPR: Partial Deterministic Record and Replay for One-Sided Communication",
LBNL TR,
April 17, 2015,
Michael Schmitt. Anurag Acharya, Max Ibel, Costin Iancu,
"Service Sockets: A Uniform User-Level Interface for Networking Applications",
2001,
Posters
Chang-Seo Park, Koushik Sen, Costin Iancu,
"Scaling Data Race Detection for Partitioned Global Address Space Programs",
Principles and Practice of Parallel Programming (PPoPP 2013),
March 4, 2013,
Annual Reports
James Demmel, Costin Iancu, Kouhsik Sen,
"Corvette Progress Report 2015",
April 1, 2015,