John Bachan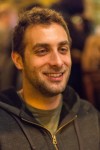 Computer Systems Engineer
Computer Architecture Group
Lawrence Berkeley National Laboratory
One Cyclotron Road
Berkeley
,
CA
94720
US
Biographical Sketch
John Bachan is Computer Systems Engineer in the Computer Architecture Group. His focus spans the software stack of modern HPC platforms, from low-level networking runtimes and concurrency primitives to high-level programming models for domain scientists. His musings of passion are projects which aim to make scientific programming easier and more productive without forfeiting the computational capability of the underlying machine.
Current Projects
Mobiliti: Scalable Transportation Simulation Using High-Performance Computing
ProgrAMR: Enabling Task-Based Performance Models for AMR
OpenSoC Fabric: An Open-Source Network-On-Chip Generator
Conference Papers
John Bachan, Scott B. Baden, Steven Hofmeyr, Mathias Jacquelin, Amir Kamil, Dan Bonachea, Paul H. Hargrove, Hadia Ahmed,
"UPC++: A High-Performance Communication Framework for Asynchronous Computation",
33rd IEEE International Parallel & Distributed Processing Symposium (IPDPS'19),
Rio de Janeiro, Brazil,
IEEE,
May 2019,
doi: 10.25344/S4V88H
UPC++ is a C++ library that supports high-performance computation via an asynchronous communication framework. This paper describes a new incarnation that differs substantially from its predecessor, and we discuss the reasons for our design decisions. We present new design features, including future-based asynchrony management, distributed objects, and generalized Remote Procedure Call (RPC).
We show microbenchmark performance results demonstrating that one-sided Remote Memory Access (RMA) in UPC++ is competitive with MPI-3 RMA; on a Cray XC40 UPC++ delivers up to a 25% improvement in the latency of blocking RMA put, and up to a 33% bandwidth improvement in an RMA throughput test. We showcase the benefits of UPC++ with irregular applications through a pair of application motifs, a distributed hash table and a sparse solver component. Our distributed hash table in UPC++ delivers near-linear weak scaling up to 34816 cores of a Cray XC40. Our UPC++ implementation of the sparse solver component shows robust strong scaling up to 2048 cores, where it outperforms variants communicating using MPI by up to 3.1x.
UPC++ encourages the use of aggressive asynchrony in low-overhead RMA and RPC, improving programmer productivity and delivering high performance in irregular applications.
John Bachan, Dan Bonachea, Paul H Hargrove, Steve Hofmeyr, Mathias Jacquelin, Amir Kamil, Brian van Straalen, Scott B Baden,
"The UPC++ PGAS library for Exascale Computing",
Proceedings of the Second Annual PGAS Applications Workshop,
November 13, 2017,
7,
We describe UPC++ V1.0, a C++11 library that supports APGAS programming. UPC++ targets distributed data structures where communication is irregular or fine-grained. The key abstractions are global pointers, asynchronous programming via RPC, and futures. Global pointers incorporate ownership information useful in optimizing for locality. Futures capture data readiness state, are useful for scheduling and also enable the programmer to chain operations to execute asynchronously as high-latency dependencies become satisfied, via continuations. The interfaces for moving non-contiguous data and handling memories with different optimal access methods are composable and closely resemble those used in modern C++. Communication in UPC++ runs at close to hardware speeds by utilizing the low-overhead GASNet-EX communication library.
Cy Chan, John Bachan, Joseph Kenny, Jeremiah Wilke, Vincent Beckner, Ann Almgren, John Bell,
"Topology-Aware Performance Optimization and Modeling of Adaptive Mesh Refinement Codes for Exascale",
(BEST PAPER AWARD) COMHPC 2016 - SC16 Workshop on Communication Optimization in High Performance Computing,
Salt Lake City, UT,
November 18, 2016,
Reports
Posters
Scott B. Baden, Paul H. Hargrove, Hadia Ahmed, John Bachan, Dan Bonachea, Steve Hofmeyr, Mathias Jacquelin, Amir Kamil, Brian van Straalen,
"UPC++ and GASNet-EX: PGAS Support for Exascale Applications and Runtimes",
The International Conference for High Performance Computing, Networking, Storage and Analysis (SC'18),
November 13, 2018,
Lawrence Berkeley National Lab is developing a programming system to support HPC application development using the Partitioned Global Address Space (PGAS) model. This work is driven by the emerging need for adaptive, lightweight communication in irregular applications at exascale. We present an overview of UPC++ and GASNet-EX, including examples and performance results.

GASNet-EX is a portable, high-performance communication library, leveraging hardware support to efficiently implement Active Messages and Remote Memory Access (RMA). UPC++ provides higher-level abstractions appropriate for PGAS programming such as: one-sided communication (RMA), remote procedure call, locality-aware APIs for user-defined distributed objects, and robust support for asynchronous execution to hide latency. Both libraries have been redesigned relative to their predecessors to meet the needs of exascale computing. While both libraries continue to evolve, the system already demonstrates improvements in microbenchmarks and application proxies.