Hongzhang Shan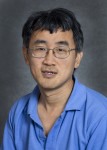 Shan's research interests focus on parallel programming models, performance tuning of large-scale applications, and performance modeling and benchmarking for architecture evaluation, AI algorithms and big data processing
Journal Articles
Philip C. Roth, Hongzhang Shan, David Riegner, Nikolas Antolin, Sarat Sreepathi, Leonid Oliker, Samuel Williams, Shirley Moore, Wolfgang Windl,
"Performance Analysis and Optimization of the RAMPAGE Metal Alloy Potential Generation Software",
SIGPLAN International Workshop on Software Engineering for Parallel Systems (SEPS),
October 2017,
Hongzhang Shan, Filip Blagojevic, Seung-Jai Min, Paul Hargrove, Haoqiang Jin, Karl Fuerlinger, Alice Koniges, Nicholas J. Wright,

"A Programming Model Performance Study Using the NAS Parallel Benchmarks",

Scientific Programming -Exploring Languages for Expressing Medium to Massive On-Chip Parallelism,

August 1, 2010,

vol.18

,
R. Biswas, L. Oliker, H. Shan,
"Parallel Computing Strategies for Irregular Algorithms",
Annual Review of Scalable Computing,
April 2003,
Hongzhang Shan, Jaswinder P. Singh, Leonid Oliker, Rupak Biswas,
"Message Passing and Shared Address Space Parallelism on an SMP Cluster",
Parallel Computing Journal, Volume 29, Issue 2,
February 2003,
H. Shan, J. Singh,
"A Comparison of Three Programming Models for Adaptive Applications on the Origin2000",
Extended Version: Journal of Parallel and Distributed Computing,
2002,
Conference Papers
Book Chapters
David H. Bailey, Lin-Wang Wang, Hongzhang Shan, Zhengji Zhao, Juan Meza, Erich Strohmaier, Byounghak Lee,

"Tuning an electronic structure code",

Performance Tuning of Scientific Applications,

edited by David H. Bailey, Robert F. Lucas, Samuel W. Williams,

(

CRC Press:

2011

)

Pages: 339-354
L. Oliker, A. Canning, J. Carter, C. Iancu, M. Lijewski, S. Kamil, J. Shalf, H. Shan, E. Strohmaier, S. Ethier, T. Goodale,

"Performance Characteristics of Potential Petascale Scientific Applications",

Petascale Computing: Algorithms and Applications. Chapman & Hall/CRC Computational Science Series (Hardcover),

edited by David A. Bader,

(

2007

)
Presentation/Talks
Reports
Hongzhang Shan, Samuel Williams, Wibe de Jong, Leonid Oliker,
"Thread-Level Parallelization and Optimization of NWChem for the Intel MIC Architecture",
LBNL Technical Report,
October 2014,
LBNL 6806E,
J. Levesque, J. Larkin, M. Foster, J. Glenski, G. Geissler, S. Whalen, B. Waldecker, J. Carter, D. Skinner, Y. He, H. Wasserman, J. Shalf, H. Shan, E. Strohmaier,
"Understanding and Mitigating Multicore Performance Issues on the AMD Opteron Architecture",
2007,
LBNL 62500,
Hongzhang Shan, John Shalf,
"Analysis of Parallel IO on Modern HPC Platforms",
2006,
Download File: IOR.doc (

doc:

399 KB)
Analysis of the parallel IO requirements from a number of HPC applications, combined with microbenchmarks to aid in understanding their performance.