Richard Luis Martin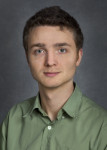 Biographical Sketch
My research concerns developing tools to accelerate computational methods of materials discovery. My interest is in the representation, comparison, searching and screening of materials, to enable design and discovery of outstanding porous materials for pressing industrial and clean-energy-related challenges.
I have been a postdoctoral research fellow in the Scientific Computing Group, Computational Research Division at Lawrence Berkeley National Laboratory since October 2010.
Journal Articles
Presentation/Talks
Application of GPUs to the high-throughput screening of porous materials for carbon capture,
18th IEEE Real-Time Conference, Berkeley, CA, USA,
June 10, 2012,
Web Articles
A detailed analysis of more than 4 million absorbent minerals has determined that new materials could help electricity producers slash as much as 30 percent of the "parasitic energy" costs associated with removing carbon dioxide from power plant emissions...
When power plants begin capturing their carbon emissions to reduce greenhouse gases – and to most in the electric power industry, it's a question of when, not if – it will be an expensive undertaking...
Posters
Richard L. Martin, Thomas F. Willems, Chris H. Rycroft, Prabhat, Michael Kazi and Maciej Haranczyk,
"High-throughput structure analysis and descriptor generation for crystalline porous materials",
International Conference on Chemical Structures (Noordwijkerhout, Netherlands),
June 5, 2011,
Richard L. Martin, Maciej Haranczyk, Prabhat and James A. Sethian,
"PDE-based analysis of void space of porous materials on multicore CPUs",
Manycore and Accelerator-based High-performance Scientific Computing 2011 (Berkeley, CA),
January 24, 2011,
Cover Storys
A tool for identifying optimum zeolite frameworks for gas separations at a fraction of the cost of molecular simulation is presented on p. 3595 ff. by M. Haranczyk et al. The method is based on identifying property-determining substructure features and searching material databases for geometrically similar arrangements of framework atoms. The approach is deployed to screen a database an order of magnitude larger than has been examined in previous studies.
The relationship between the self- and collective-diffusion behavior of adsorbed gases is investigated with various simulation.
Others
Crystalline porous materials are some of the most important synthetic products ever made...