Chao Yang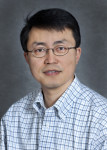 Senior Scientist
Applied Mathematics
Computationa Research Division
1 Cyclotron Rd, MS-50F
Berkeley
,
CA
94720
US
Short Bio
Chao Yang received his Ph.D. in computational mathematics from Rice University in 1998. He worked at NEC Systems Lab, Inc, a subsidiary of NEC from 1998 to 1999. He was awarded the 1999 Householder fellow in scientific computing by Oak Ridge National Laboratory. He joined Lawrence Berkeley National Laboratory in 2000 and is currently a senior scientist. His research interests include:
developing numerical algorithms and fast implementation to accelerate scientific simulations
developing efficient and robust algorithms and implementations for solving inverse problems
His core expertise is in numerical linear algebra, optimization, large-scale data analysis, and high performance computing. Over the last several years, he has successfully used techniques developed in these areas to solve problems in electronic structure calculations, nuclear structure calculations, cavity design for accelerator models, single-particle analysis for cryo-electron microscopy, single molecular diffractive imaging, phase retrieval, ptychography, etc.
Journal Articles
Conference Papers
Gianina Alina Negoita, James P. Vary, Glenn R. Luecke, Pieter Maris, Andrey M. Shirokov, Ik Jae Shin, Youngman Kim, Esmond G. Ng, Chao Yang, Matthew Lockner, Gurpur M. Prabhu,
"Deep Learning: Extrapolation Tool for Ab Initio Nuclear Theory",
CoRR,
November 10, 2018,
Mathias Jacquelin, Lin Lin, Weile Jia, Yonghua Zhao, Chao Yang,
"A Left-Looking Selected Inversion Algorithm and Task Parallelism on Shared Memory Systems",
Proceedings of the International Conference on High Performance Computing in Asia-Pacific Region,
January 1, 2018,
54--63,
William Huhn, Alberto Garcia, Luigi Genovese, Ville Havu, Mathias Jacquelin, Weile Jia, Murat Keceli, Raul Laasner, Yingzhou Li, Lin Lin, others,
"Unified Access To Kohn-Sham DFT Solvers for Different Scales and HPC: The ELSI Project",
Bulletin of the American Physical Society,
American Physical Society,
2018,
Meiyue Shao and Chao Yang,
"Properties of Definite Bethe--Salpeter Eigenvalue Problems",
Eigenvalue Problems: Algorithms, Software and Applications in Petascale Computing. EPASA 2015. Lecture Notes in Computational Science and Engineering, vol 117.,
2017,
91--105,
doi: 10.1007/978-3-319-62426-6_7
E. Vecharynski and C. Yang,
"Preconditioned iterative methods for eigenvalue counts",
to appear in Proceedings of International Workshop on Eigenvalue Problems: Algorithms, Software and Applications in Petascale Computing, in Lecture Notes in Computational Science and Engineering, Springer,
2016,
We describe preconditioned iterative methods for estimating the number of eigenvalues of a Hermitian matrix within a given interval. Such estimation is useful in a number of applications.In particular, it can be used to develop an efficient spectrum-slicing strategy to compute many eigenpairs of a Hermitian matrix. Our method is based on the Lanczos- and Arnoldi-type of iterations. We show that with a properly defined preconditioner, only a few iterations may be needed to obtain a good estimate of the number of eigenvalues within a prescribed interval. We also demonstrate that the number of iterations required by the proposed preconditioned schemes is independent of the size and condition number of the matrix. The efficiency of the methods is illustrated on several problems arising from density functional theory based electronic structure calculations.
W.A. de Jong, L. Lin, H. Shan, C. Yang and L. Oliker,
"Towards modelling complex mesoscale molecular environments",
International Conference on Computational and Mathematical Methods in Science and Engineering (CMMSE),
2014,
M. Jung, E. H. Wilson III, W. Choi, J. Shalf, H. M. Aktulga, C. Yang, E. Saule, U. V. Catalyurek, M. Kandemir,
"Exploring the Future of Out-of-core Computing with Compute-Local Non-Volatile Memory",
International Conference for High Performance Computing, Networking, Storage and Analysis 2013 (SC13),
NY, USA,
ACM New York,
November 17, 2013,
doi: 10.1145/2503210.2503261
Z. Zhou, E. Saule, H. M. Aktulga, C. Yang, E. G. Ng, P. Maris, J. P. Vary, U. V. Catalyurek,
"An Out-of-core Eigensolver on SSD-equipped Clusters",
2012 IEEE International Conference on Cluster Computing (CLUSTER),
Beijing, China,
September 26, 2012,
248 - 256,
doi: 10.1109/CLUSTER.2012.76
E. G. Ng, J. Sarich, S. M.Wild, T. Munson, H. M. Aktulga, C. Yang, P. Maris, J. P. Vary, N. Schunck, M. G. Bertolli, M. Kortelainen, W. Nazarewicz, T. Papenbrock, M. V. Stoitsov,

"Advancing Nuclear Physics Through TOPS Solvers and Tools",

SciDAC 2011 Conference,

Denver, CO,

July 10, 2011,

arXiv

:

1110.1708,
Book Chapters
E. Saule, H. M. Aktulga, C. Yang, E. G. Ng, U. V. Catalyurek,

"An Out-of-core Task-based Middleware for Data Intensive Scientific Computing",

Handbook on Data Centers, in press,

(

Springer:

February 1, 2014

)
Presentation/Talks
Victor Yu, William Dawson, Alberto Garcia, Ville Havu, Ben Hourahine, William Huhn, Mathias Jacquelin, Weile Jia, Murat Keceli, Raul Laasner, others,
Large-Scale Benchmark of Electronic Structure Solvers with the ELSI Infrastructure,
Bulletin of the American Physical Society,
2019,
C. Yang,
Absorption Spectrum Estimation via Linear Response TDDFT,
Applied Math Seminar, Stanford University,
May 13, 2015,
C. Yang,
Fast Numerical Algorithms for Large-scale Electronic Structure Calculations,
DOE BES Computational and Theoretical Chemistry PI Meeting,
April 28, 2015,
C. Yang,
Fast Numerical Methods for Electronic Structure Calculations,
Math Colloquium, Michigan Tech University,
April 24, 2015,
C. Yang,
Fast Numerical Methods for Electronic Structure Calculations,
Applied math & PDE seminar, UC Davis,
April 14, 2015,
C. Yang,
Fast Numerical Methods for Computational Materials Science and Chemistry,
CRD All-hands meeting,
March 4, 2015,
C. Yang,
Fast Numerical Methods for Electronic Structure Calculations,
Workshop on High Performance and Parallel Computing Methods and Algorithms for Materials Defects, Singapore,
February 9, 2015,