Scalable Solvers Group
Daan Camps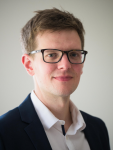 Postdoctoral Fellow
Computational Research Division
Lawrence Berkeley National Laboratory
1 Cyclotron Road
Mailstop 50A-3111
Berkeley
,
California
94720
US
Positions
---
Postdoctoral Fellow

, 

Computational Research Division

, Berkeley Lab, November 2019 - present.

PhD Researcher, Department of Computer Science, KU Leuven, September 2015 - September 2019.
Research Interests
---
Numerical Linear Algebra
Eigenvalue problems
(Rational) Krylov methods
(Rational) QR methods
Quantum Circuit Synthesis
Education
---
Doctor of Philosophy (PhD): Computer Science
2015-2019, KU Leuven, Belgium.
Master of Engineering: Mathematical Engineering
2011-2013, KU Leuven, Belgium.
Master of Science: Astronomy
2009-2011, KU Leuven, Belgium.
Bachelor of Science: Physics
2006-2010, UHasselt, Belgium.
Journal Articles
Thesis/Dissertations
Pole swapping methods for the eigenvalue problem - Rational QR algorithms,
Daan Camps,
2019,