Michael Wehner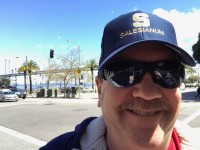 Michael F. Wehner is a senior staff scientist in the Computational Research Division at the Lawrence Berkeley National Laboratory.
Dr. Wehner's current research concerns the behavior of extreme weather events in a changing climate, especially heat waves, intense precipitation, drought and tropical cyclones. Before joining the Berkeley Lab in 2002, Wehner was an analyst at the Lawrence Livermore National Laboratory in the Program for Climate Modeling Diagnosis and Intercomparison. He is the author or co-author of over 165 scientific papers and reports. He was a lead author for both the 2013 Fifth Assessment Report of the Intergovernmental Panel on Climate Change and the 2nd,3rd and 4th US National Assessments on climate change. Dr. Wehner earned his master's degree and Ph.D. in nuclear engineering from the University of Wisconsin-Madison, and his bachelor's degree in Physics from the University of Delaware.
»Download Michael's statement on NCA4 Detection and Attribution presented at AGU 2017
>> youtube video of 2017 AGU Union Session on the 4th US National Climate Assessment. I discuss detection and attribution at about 49:50 in this clip.
»Download short bio
»Download publications list
»View Selected Open Access Publications Online
»Or use eScholarship to find more of my Open Access publications
»Google scholar page for Michael F. Wehner
Media Appearances
Live interview on CNN Headline News about our paper in Geophysical Review Letters quantifying the human influence on Hurricane Harvey precipitation.
click here
AGU press conference the human influence on Hurricane Harvey precipitation.
click here
I discuss hurricanes, climate change and extreme weather attribution on KPFA "Up Front" Radio Interview September 2017(Audio, about 20 minutes long)
I discuss the attribution of the human influence on the deadly heat waves in India and Pakistan during 2015 on Radio EcoShock June 2016.(Audio, about 16 minutes)
Wehner-India-Pakistan-heatwaves.mp3
I discuss the IPCC 5th Assessment Report on KPFA April 2014 (Audio, about 27 minutes long)
Wehner-IPCC-Pacifica-radio.mp3
I discuss the human influence on Hurricane Harvey on NPR "Living Lab Radio," (Audio, about 15 minutes long)
»"Harvey Would Have Been Bad; Climate Change Made it Worse," September 4, 2017
I discuss future agricultural drought on NPR "On Point," (Audio, about an hour)
»"Mega-Droughts in Our Future," August 14, 2012
BBC News Interview, Hurricane Harvey September 2017 (video, about 3 minutes)
A very brief appearance on CBS "This Morning". Hurricanes and climate change. September 2017 (video).
click here
Ask a Scientist About Droughts, Extreme Weather and Climate Change
A Climate Scientist Answers Your Extreme Weather Questions
Climate Simulations
Animation of a High-Resolution Global Atmospheric model
Animation of an Atmospheric River in a High Resolution, Global Atmospheric model
Talks

Extreme Weather in a Changing Climate:

California Public Utilities Commission March 6, 2018
http://www.adminmonitor.com/ca/cpuc/thought_leaders/20180306/
Extreme Weather in a Changing Climate

Sonoma State University,
What Physicists Do - April 10, 2017
Extreme Weather in a Changing Climate:
CMIP5 tutorial National Center for Atmospheric Research, August 16, 2016 

Opportunities with Very Large High Resolution Climate Model Datasets.
Big Data and The Earth Sciences: Grand Challenges Workshop
How hot will it get? Berkeley Lab "Science at the Theater" April 2013. (I talk about extreme weather event attribution at about 28:50)
Testimony & Comments
Comments on Flooding at the National Academy of Sciences workshop on Extreme Event Attribution
U.S. House of Representatives Select Committee on Energy Independence and Global Warming Briefing: Extreme Weather in a Warming World, September 23, 2010 (Complete Testimony)
U.S. House of Representatives Select Committee on Energy Independence and Global Warming, Briefing: Extreme Weather in a Warming World, September 23, 2010, (Wehner Testimony Only)