Eugene Vecharynski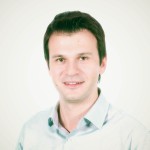 Project Scientist
Computational Research Division
Lawrence Berkeley National Laboratory
One Cyclotron Road
MS 50A-3111
Berkeley
,
CA
94720
US
Position
---
Project Scientist, May 2016-present
Postdoctoral Research Fellow, Computational Research Division, January 2013 - May 2016.
Education
---
Ph.D. Applied Mathematics, University of Colorado Denver, 2011.
M.S. Applied Mathematics, Belarusian State University, 2006.

B.S. Applied Mathematics and Computer Science, Belarusian State University, 2005.
Short Bio
---
Eugene Vecharynski is a project scientist with the Scalable Solvers Group in the Computational Research Division at the Lawrence Berkeley National Laboratory. He is currently working on numerical solution of extreme-scale eigenvalue problems arising in electronic structure calculations. 
Vecharynski's research is primarily in the field of preconditioned iterative solvers for large algebraic systems, including linear and nonlinear systems and eigenvalue problems. He has contributed to various aspects of matrix computations, such as development of new solvers, theoretical analysis of Krylov subspace methods, and novel preconditioning techniques. Results of his work have been used in a number of applications in physical sciences and data analytics.
Before joining LBNL, Eugene Vecharynski was a postdoc with Yousef Saad and Masha Sosonkina at the Department of Computer Science and Engineering, University of Minnesota, and spent a semester as a Visiting Assistant Professor at the Department of Mathematics and Statistics, Georgia State University. He has a Ph.D. from the Department of Mathematical and Statistical Sciences, University of Colorado Denver, advised by Andrew Knyazev. 
Journal Articles
Conference Papers
E. Vecharynski and C. Yang,
"Preconditioned iterative methods for eigenvalue counts",
to appear in Proceedings of International Workshop on Eigenvalue Problems: Algorithms, Software and Applications in Petascale Computing, in Lecture Notes in Computational Science and Engineering, Springer,
2016,
We describe preconditioned iterative methods for estimating the number of eigenvalues of a Hermitian matrix within a given interval. Such estimation is useful in a number of applications.In particular, it can be used to develop an efficient spectrum-slicing strategy to compute many eigenpairs of a Hermitian matrix. Our method is based on the Lanczos- and Arnoldi-type of iterations. We show that with a properly defined preconditioner, only a few iterations may be needed to obtain a good estimate of the number of eigenvalues within a prescribed interval. We also demonstrate that the number of iterations required by the proposed preconditioned schemes is independent of the size and condition number of the matrix. The efficiency of the methods is illustrated on several problems arising from density functional theory based electronic structure calculations.
L. Pilipchuk and E. Vecharynski,
"Solution of Large Underdetermined Linear Systems for a Generalized Non-Homogeneous Network Flow Programming Problem",
Proceedings of I International Conference "Mathematical Modeling and Differential Equations", Minsk,
2007,
Reports
We present two efficient iterative algorithms for solving the linear response eigenvalue problem arising fromthe time dependent density functional theory. Although the matrix to be diagonalized is nonsymmetric, it has a special structure that can be exploited to save both memory and floating point operations. In particular, the nonsymmetric eigenvalue problem can be transformed into a product eigenvalue problem that is self-adjoint with respect to a K-inner product. This product eigenvalue problem can be solved efficiently by a modified Davidson algorithm and a modified locally optimal block preconditioned conjugate gradient (LOBPCG) algorithm that make use of the K-inner product. The solution of the product eigenvalue problem yields one component of the eigenvector associated with the original eigenvalue problem. However, the other component of the eigenvector can be easily recovered in a postprocessing procedure. Therefore, the algorithms we present here are more efficient than existing algorithms that try to approximate both components of the eigenvectors simultaneously.The efficiency of the new algorithms is demonstrated by numerical examples.
Thesis/Dissertations