Gustavo Chávez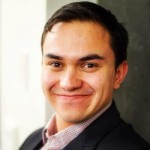 Postdoctoral Fellow
Computational Research Division
Lawrence Berkeley National Laboratory
1 Cyclotron Road
MS 50A-3111
Berkeley
,
CA
94720
US
Bio
Gustavo Chávez is a postdoctoral fellow at the scalable solvers group at the Lawrence Berkeley National Laboratory, funded by the U.S. Department of Energy through the Exascale Computing Project.
His research is in Computational Science & Engineering at extreme scale, primarily through the development and support of the Structured Matrix Package: STRUMPACK.
He received a Ph.D. in Computer Science under supervision of Prof. David Keyes and a M.Sc. in Applied Mathematics from the King Abdullah University of Science and Technology (KAUST), and a B.Eng. in Software Engineering from the Universidad Tecnológica de México.​
---
Publications
---
Research activities
High-performance linear solvers based on hierarchical matrices.
Approximate factorizations of kernel matrices for high-dimensional data.
---
Upcoming talks
> May 21th, 2018. Vancouver, Canada. IPDPS Workshop on Parallel and Distributed Computing for Large-Scale Machine Learning and Big Data Analytics. A Study of Clustering Techniques and Hierarchical Matrix Formats for Kernel Ridge Regression.
> March 8th, 2018. Tokyo, Japan. Minisymposium: Hierarchical Low-Rank Approximation Methods / 18th SIAM Conference on Parallel Processing for Scientific Computing (PP18). Hierarchical matrix preconditioners on distributed memory environments. (slides)
> February 7th  2018. Knoxville, U.S.A. Exascale Computing Project ECP Annual Meeting. STRUMPACK.
> Dec 13th, 2017. Thuwal, Saudi Arabia. Computer Science seminar at the Extreme Computing Research Center (ECRC) / KAUST. Two decades of hierarchical matrix computations: past, present, and future. (slides)