Jonathan Carter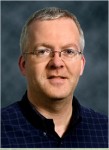 Deputy Director
Computational Research Division
Jonathan Carter is both the Computing Sciences Area Deputy and the Computational Research Division Deputy Director.
Before assuming the Deputy role, Carter was leader of the NERSC User Services Group.  He joined NERSC as a consultant in the User Services Group (USG) at the end of 1996, helping users learn to effectively use the computing systems. He became leader of USG at the end of 2005. Carter maintains an active interest in algorithms and architectures for high-end computing, and regularly participates in benchmarking and procurement activities to deploy new systems for NERSC. As part of collaborations with the Future Technologies Group in CRD, and the NERSC Advanced Technology Group, he has published several architecture evaluation studies, and looked at what it takes to move common simulation algorithms to exotic architectures. His applications work on the Japanese Earth Simulator earned him a nomination as Gordon Bell Prize finalist in 2005.
Before coming to Berkeley Lab, he worked at the IBM Almaden Research Center as a developer of computational chemistry methods and software, and as a researcher of chemical problems of interest to IBM. Jonathan holds a Ph.D. and B.S in chemistry from the University of Sheffield, UK, and performed postdoctoral work at the University of British Columbia, Canada.
Journal Articles
S. Williams, K. Datta, J. Carter, L. Oliker, J. Shalf, K. Yelick, D. Bailey,
"PERI: Auto-tuning Memory Intensive Kernels for Multicore",
SciDAC PI Meeting, Journal of Physics: Conference Series, 125 012038,
July 2008,
doi: 10.1088/1742-6596/125/1/012038
George Vahala, Min Soe, Brian Keating, Jeffrey Yepez, Linda Vahala, Jonathan Carter, Sean Ziegeler,

"MHD Turbulence Studies Using Lattice Boltzmann Algorithms",

Commun. Comput. Phys.,

2008,

4

:

624-646,
L. Oliker, J. Carter, M. Wehner, A. Canning, S. Ethier, A. Mirin, G. Bala, D. Parks, P. Worley, S. Kitawaki, Y. Tsuda,
"Scientific Application Performance on Leading Scalar and Vector Supercomputing Platforms",
International Journal of High Performance Computing Applications,
2006,
L. Oliker, A. Canning, J. Carter, J. Shalf, H. Simon, S. Ethier, D. Parks, S. Kitawaki, Y. Tsuda, T. Sato,

"Performance of Ultra-Scale Applications on Leading Vector and Scalar HPC Platforms",

Journal of the Earth Simulator,

January 2005,

3

,
Leonid Oliker, Rupak Biswas, Julian Borrill, Andrew Canning, Jonathan Carter, M. Djomehri, Hongzhang Shan, David Skinner,

"A Performance Evaluation of the Cray X1 for Scientific Applications",

Lecture Notes in Computer Science,

2005,

3402

:

69--75,
Conference Papers
Book Chapters
K. Datta, S. Williams, V. Volkov, J. Carter, L. Oliker, J. Shalf, K. Yelick,

"Auto-tuning Stencil Computations on Multicore and Accelerators",

chapter in Scientific Computing with Multicore and Accelerators,

edited by Jack Dongarra, David A. Bader,

(

2010

)
Samuel Williams, Kaushik Datta, Leonid Oliker, Jonathan Carter, John Shalf, Katherine Yelick,

"Auto-Tuning Memory-Intensive Kernels for Multicore",

Performance Tuning of Scientific Applications,

edited by D. H. Bailey, R. F. Lucas, S. W. Williams,

(

CRC Press:

2010

)

Pages: 219
L. Oliker, J. Carter, V. Beckner, J. Bell, H. Wasserman, M. Adams, S. Ethier, E. Schnetter,

"Large-Scale Numerical Simulations on High-End Computational Platforms",

Chapman & Hall/CRC Computational Science,

edited by D. H. Bailey, R. F. Lucas, S. W. Williams,

(

CRC Press:

2010

)

Pages: 123
L. Oliker, A. Canning, J. Carter, C. Iancu, M. Lijewski, S. Kamil, J. Shalf, H. Shan, E. Strohmaier, S. Ethier, T. Goodale,

"Performance Characteristics of Potential Petascale Scientific Applications",

Petascale Computing: Algorithms and Applications. Chapman & Hall/CRC Computational Science Series (Hardcover),

edited by David A. Bader,

(

2007

)
Reports
J. Levesque, J. Larkin, M. Foster, J. Glenski, G. Geissler, S. Whalen, B. Waldecker, J. Carter, D. Skinner, Y. He, H. Wasserman, J. Shalf, H. Shan, E. Strohmaier,
"Understanding and Mitigating Multicore Performance Issues on the AMD Opteron Architecture",
2007,
LBNL 62500,
W. Kramer, J. Carter, D. Skinner, L. Oliker, P. Husbands, P. Hargrove, J. Shalf, O. Marques, E. Ng, A. Drummond, K. Yelick,
"Software Roadmap to Plug and Play Petaflop/s",
2006,
Horst D. Simon, William T.C. Kramer, David H. Bailey, Michael J. Banda, E. Wes Bethel, Jonathan T. Carter, James M. Craw, William J. Fortney, John A. Hules, Nancy L. Meyer, Juan C. Meza, Esmond G. Ng, Lynn E. Rippe, William C. Saphir, Francesca Verdier, Howard A. Walter, Katherine A. Yelick,
"Science-Driven Computing: NERSC s Plan for 2006-2010",
2005,
Posters
S. Williams, J. Carter, J. Demmel, L. Oliker, D. Patterson, J. Shalf, K. Yelick, R. Vuduc,
"Autotuning Scientific Kernels on Multicore Systems",
ASCR PI Meeting,
2008,
Others
A. Macnab, G. Vahala, L. Vahala, J. Carter, M. Soe, W. Dorland,
Non-Local Closure and Parallel Performance of Lattice Boltzmann Models for Some Plasma Physics Problems,
Physica A: Statistical Mechanics and its Applications,
Pages: 362
2006,