Xiaoye Sherry Li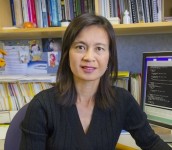 Sherry Li is a Staff Scientist in the Computational Research Division of Lawrence Berkeley National Laboratory. She has worked on diverse problems in high performance scientific computations, including parallel computing, sparse matrix computations, high precision arithmetic, and combinatorial scientific computing. She has (co)authored over 75 publications in referred journals or conference proceedings, and contributed to several book chapters. She has contributed to the design and implementation of the following high quality, open source software packages: SuperLU, PDSLin, XBLAS, ARPREC, QD, and LAPACK. She has collaborated with many domain scientists to deploy the advanced mathematical software in their simulation codes, including those from accelerator structure modeling, plasma fusion energy study, and materials sciences. She earned her Ph.D. in Computer Science from UC Berkeley in 1996. She has served on the editorial boards of the SIAM J. Scientific Comput. and ACM Trans. Math. Software, as well as many program committees of the scientific conferences. She is a Senior Member of ACM.
Journal Articles
We have implemented a flexible Grazing Incidence Small-Angle Scattering (GISAXS) simulation code in the framework of the Distorted Wave Born Approximation (DWBA) that effectively utilizes the parallel processing power provided by graphics processors and multicore processors. This constitutes a handy tool for experimentalists facing a massive flux of data, allowing them to accurately simulate the GISAXS process and analyze the produced data. The software computes the diffraction image for any given superposition of custom shapes or morphologies in a user-defined region of the reciprocal space for all possible grazing incidence angles and sample orientations. This flexibility then allows to easily tackle a wide range of possible sample structures such as nanoparticles on top of or embedded in a substrate or a multilayered structure. In cases where the sample displays regions of significant refractive index contrast, an algorithm has been implemented to perform a slicing of the sample and compute the averaged refractive index profile to be used as the reference geometry of the unperturbed system. Preliminary tests show good agreement with experimental data for a variety of commonly encountered nanostrutures.
Shen Wang, Xiaoye S. Li, François-Henry Rouet, Jianlin Xia, Maarten V. de Hoop,
"A parallel geometric multifrontal solver using hierarchically semiseparable structure",
Submitted to TOMS,
2013,
L. Oliker. X. Li, P. Husbands, R. Biswas,
"Effects of Ordering Strategies and Programming Paradigms on Sparse Matrix Computations",
SIAM Review Journal,
2002,
L. Oliker, X. Li, G. Heber, R. Biswas,
"Ordering Unstructured Meshes for Sparse Matrix Computations on Leading Parallel Systems",
Seventh International Workshop on solving Irregularly Structured Problems in Parallel,
2000,
Conference Papers
Presentation/Talks
Reports
Alfredo Buttari, Serge Gratton, Xiaoye S. Li, Marième Ngom, François-Henry Rouet, David Titley-Peloquin, Clément Weisbecker,
"Error Analysis of the Block Low-Rank LU factorization of dense matrices",
IRIT-CERFACS, RT-APO-13-7,
August 2013,
X-ray scattering is a valuable tool for measuring the structural properties of materials used in the design and fabrication of energy-relevant nanodevices (e.g., photovoltaic, energy storage, battery, fuel, and carbon capture and sequestration devices) that are key to the reduction of carbon emissions. Although today's ultra-fast X-ray scattering detectors can provide tremendous information on the structural properties of materials, a primary challenge remains in the analyses of the resulting data. We are developing novel high-performance computing algorithms, codes, and software tools for the analyses of X-ray scattering data. In this paper we describe two such HPC algorithm advances. Firstly, we have implemented a flexible and highly efficient Grazing Incidence Small Angle Scattering (GISAXS) simulation code based on the Distorted Wave Born Approximation (DWBA) theory with C++/CUDA/MPI on a cluster of GPUs. Our code can compute the scattered light intensity from any given sample in all directions of space; thus allowing full construction of the GISAXS pattern. Preliminary tests on a single GPU show speedups over 125x compared to the sequential code, and almost linear speedup when executing across a GPU cluster with 42 nodes, resulting in an additional 40x speedup compared to using one GPU node. Secondly, for the structural fitting problems in inverse modeling, we have implemented a Reverse Monte Carlo simulation algorithm with C++/CUDA using one GPU. Since there are large numbers of parameters for fitting in the in X-ray scattering simulation model, the earlier single CPU code required weeks of runtime. Deploying the AccelerEyes Jacket/Matlab wrapper to use GPU gave around 100x speedup over the pure CPU code. Our further C++/CUDA optimization delivered an additional 9x speedup.
Ichitaro Yamazaki, Xiaoye Sherry Li, François-Henry Rouet, Bora Uçar,
"Partitioning, Ordering and Load Balancing in a Hierarchically Parallel Hybrid Linear Solver",
Institut National Polytechnique de Toulouse, RT-APO-12-2,
November 2011,
Posters
R. Ryne, B. Austin, J. Byrd, J. Corlett, E. Esarey, C. G. R. Geddes, W. Leemans, X. Li, Prabhat, J. Qiang, O. Rübel, J.-L. Vay, M. Venturini, K. Wu, B. Carlsten, D. Higdon and N. Yampolsky,
"High Performance Computing in Accelerator Science: Past Successes, Future Challenges",
Workshop on Data and Communications in Basic Energy Sciences: Creating a Pathway for Scientific Discovery,
October 2011,